Manhattan Joe's Pizzeria (Boca Raton)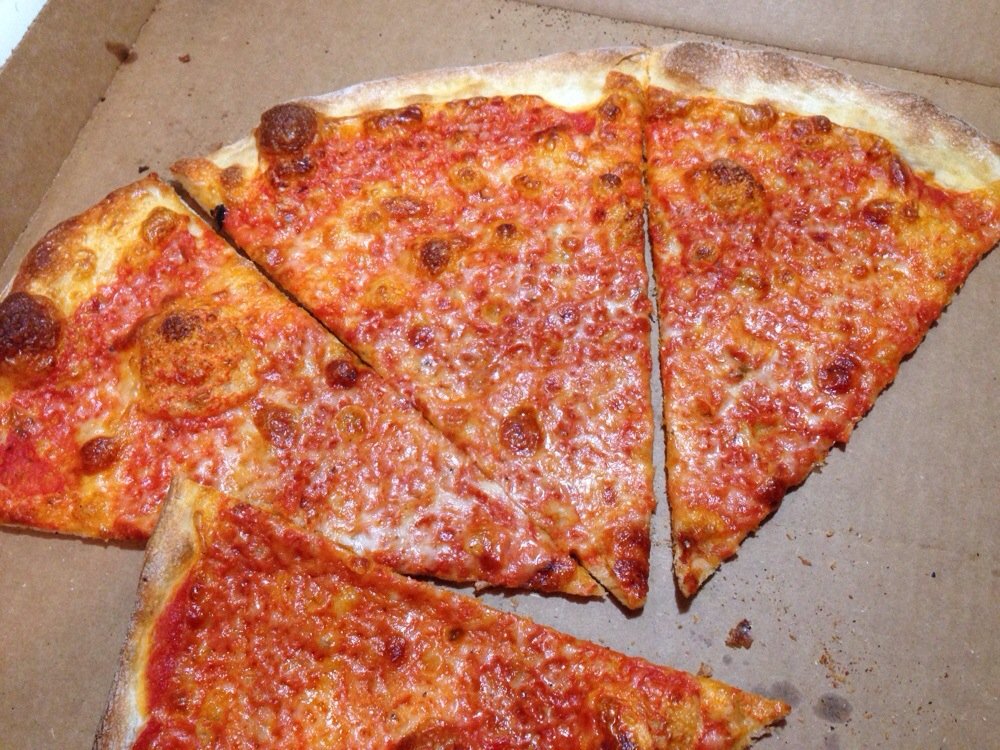 ***** Manhattan Joe's Pizzeria, 5030 Champion Blvd, Boca Raton, Florida 33496, (561) 995-6563
Yesterday–December 3, 2012 Jeff Eats "ran" the "below" story on Boca Raton pizza joint…Manhattan Joe's Pizzeria.
Just a quick update…last night, Jeff Eats "picked-up" a 20″ plain pizza at Manhattan Joe's Pizzeria.
To close this story out…The pizza was OK!–Was it outrageously delicious? Nope! The thin crust had potential but was "undercooked"…the sweet sauce a drop on the bland side. That said, with just a drop of tinkering-and the joint's owner could have something working here.
For the record, when I picked up my pizza, the joint had about 8 people eating in. I did notice some really nice looking salads and subs being "consumed." As Jeff Eats just mentioned, I did a pizza pickup–so no opinion on the other stuff that this joint makes.
One final observation, while waiting for my order–Jeff Eats noticed a livery cab stop in front of Manhattan Joe's with a guy jumping out from the backseat-running into the joint for a pickup order and then hopping back in the cab. Apparently, "somebody" really likes the joint's food.
For our purposes, let's call Manhattan Joe's a work in progress.
You can check menu/prices at manhattanjoespizzeria.com.
The joint is open, Monday-Wednesday 11am-9PM, Thursday-Friday 11am-10pm, Saturday noon-10:00pm, Sunday noon-9pm.
_______
Manhattan Joe's Pizzeria (Boca Raton)
Posted on December 3rd, 2012 · Boca Raton Fast Food Italian Pizza Subs/Salads
* Manhattan Joe's Pizzeria
I need you-guys' help on this one! Not to sound conceited or nothing, but because of Jeff Eats wit, good taste and style, Jeff Eats has kinda-large readership. No-bull, every day, Jeff Eats receives a number of e-mails "inviting" him to try this restaurant or that one…believe it or not, there are only so many hours in a day, bucks in Jeff Eats' wallet and gallons of gas in his car—I just can't get to "all of them"—but I do my best, for you guys.
Anyway…
A few months ago, Manhattan Joe's Pizzeria- a "hole in the wall" pizza joint opened at 5030 Champion Boulevard in Boca Raton, (561 ) 995-6563. To date, Jeff Eats hasn't had a chance to try the joint -out. From what I understand, Manhattan Joe's Pizzeria is an order at/pickup at the counter operation…14 different pizzas, 6 different salads, 6 different subs, handful of other items like calzones and chocolate cake. Handful of tables inside/handful outside. The joint does slices during the day/full pies at night.
Do me a favor and check this one out for me. I promise, I'll eventually get to it…Just so you know, this past weekend- 3 different people mentioned the joint to me—and all three raved about how delicious the pizza/salad/subs were. By the way, —one of the "ravers"- I think, really knows his pizza and if he says its a dynamite New York slice–then, the joint is probably making a dynamite New York slice.
Like I said a few seconds ago, Jeff Eats has Manhattan Joe's Pizzeria on its "to do list." Based on the real possibility that this joint may-be a "homerun"—I owe it to you guys to get you there, ahead of others.