The Office (Delray Beach)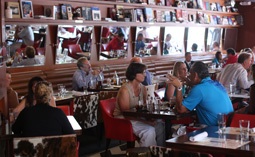 The Office, 201 East Atlantic Avenue, Delray Beach, Florida 33444, (561) 276-3600.
The Office…casual American-Style joint in Delray Beach.
Yesterday, Jeff Eats and Son Jeff Eats had lunch at The Office in Delray. Let me start by saying, that it's a great looking- modern- cool-joint with both inside/outdoor seating. It has a full bar, with loads of beers on tap–the bar is two sided/you can sit inside or outside. You can check menu/prices/photos at www.theofficedelray.com.
The Office's menu is far from being huge…that said, it has enough appetizers, salads, burgers, entrees, desserts to get the job done.
Look! Let me get this off my chest—I thought that The Office was an absolute RIP-OFF. 1 cheeseburger and 1 bacon cheeseburger (both came with french fries) and a 10 oz bottle of Coke (no refills) shouldn't cost $46 with the tip. Trust me, Jeff Eats is- no cheapskate…but when we left, I was really annoyed that I had just got bagged. As for the food, Son Jeff Eats thought that his cheeseburger was delicious-same for the fries, while Jeff Eats thought that the bacon cheeseburger was ok-but nothing special and that the fries were pretty decent.
Jeff Eats can't render an opinion on "other" menu items…because I didn't try them. Based on the burgers/fries at "tourist" prices—Jeff Eats in all good conscious can't recommend this joint to you.
Maybe I'm getting old or something, but I was actually offended by the "check."
If you don't offend as "easily" as Jeff Eats does or have cash to burn…or your a tourist…
The Office is open Sunday-Thursday 11:30am-10pm, Friday-Saturday 11:30am-11pm.