Bo Leg's B.B.Q. (North Miami)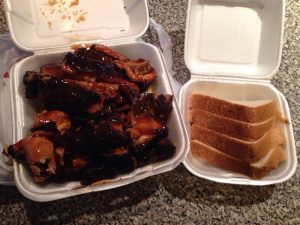 ***** Bo Leg's B.B.Q., 250 Northeast 167th Street, North Miami, Florida 33162, (305) 303-2134.
Got a really good "smoked" bbq joint for you…Bo Leg's B.B.Q. in North Miami.
Just so you know, this is a takeout joint—smokers setup in a strip center's parking lot. BO is open Wednesday-Saturday 12:30pm-9pm.
If "smoked" bbq is your game, you gotta get food from this joint. Its menu is kinda limited- ribs, bbq chicken, jerk chicken, handful of sides. Bo has a handful of sauces—bbq, hot bbq, spicy mustard, hot spicy mustard.
Last week Jeff Eats "sampled" ribs and bbq chicken. Trust me on this one, delicious…I also tried all of the sauces and they were all right on the money. If I had to do a pecking-order type deal—spicy mustard, bbq, hot spicy mustard, hot bbq.. In addition to the ribs and chicken-Jeff Eats did mac & cheese and baked beans. The sides were okay, but nothing to go nuts over.
Let me wrap this one up this way, if you like smoked bbq, Bo Leg's B.B.Q. is a must-try. It's really good.