Taco Prince (Boca Raton)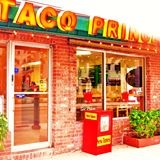 ***** Taco Prince, 180 South Federal Highway, Boca Raton, Florida 33432, (561) 750-113.
Taco Prince—"hole in the wall" order at/pickup at the counter fast food Mexican joint in Boca Raton. For a drop of color… I remember when it use to be a Dairy Queen and then a juice bar. You can check menu/prices at www.tacoprince.com
Taco Prince's menu is real simple… basically tacos, burritos, quesadillas, tostadas.
The "65" in Spanish that Jeff Eats got in 1966 at Erasmus Hall High School- qualifies me to tell you that the "sampled"– grilled steak taco, grilled mahi-mahi taco, grilled shrimp quesadilla, mushroom burrito were ok–but nothing out of the ordinary.
Personally, I liked the "store" better when it was a Dairy Queen.
Taco Prince is open 7 days a week.