Marino's Pizzeria & Italian Restaurant (Miami)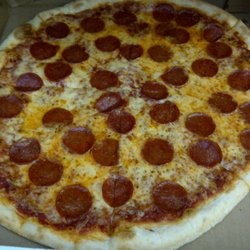 ***** Marino's Pizzeria & Italian Restaurant, 13821 Southwest 88th Street, Miami, Florida 33186, (305) 385-6688.
Marino's- decent enough "mom & pop–red sauce" Italian joint in Miami. You can check menu/prices at www.marinospizzakenall.com
Let me do this one, this way…Marino's has the full boat of appetizers, pastas, pizzas, subs, calzones, meat/seafood/chicken entrees…A recent outing "down" in Kendall had me doing a plain pizza, meat lasagna, veal parmigiana, mussels marinara, sausage & peppers, ziti marinara, minestrone soup, garlic rolls. The food, was as I said a few seconds ago…decent enough. Just so we are on the same page, Jeff Eats thought that the thin crusted pizza with a sweet sauce was right on the money–same for the garlic rolls, right on the money…the rest of the stuff was "standard" mom & pop goods.
Look! Over the past 20 years or so, Jeff Eats has eaten in so many Italian joints down here in South Florida that "sometimes" they seem to literally run together….Marino's is shall we say, mid-pack. Defintely got the job done…tons of food, reasonable prices, pleasant service, un-ending Coke refills—but nothing that I haven't seen/or tasted before.
Now- that I'm proof-reading what I just wrote, just maybe Jeff Eats is being "too" hard on Marino's…the way I'm now thinking, mid-pack ain't really all that bad—based on the fact Jeff Eats graduated 571 out of 592 in his Brooklyn Law School class of 1973.
Marino's is open 11am-11pm 7 days a week.