Di Piazza Italian Restaurant (Hialeah)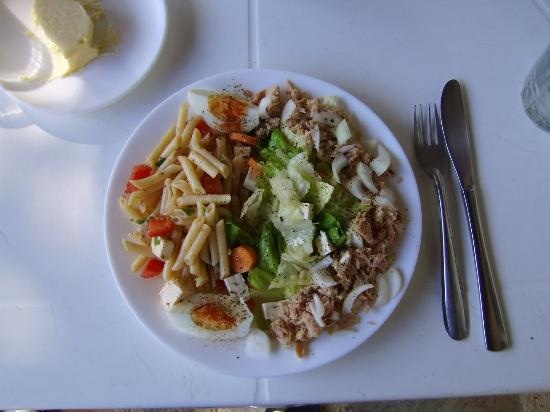 ***** Di Piazza Italian Restaurant, 1408 West 49th Street, Hialeah, Florida 33012, (305)558-8412.
Di Piazza Italian Restaurant…really good "mom & pop" red sauce Italian joint in Hialeah.
Let me start by saying, that Di Piazza Italian Restaurant is my kinda joint…
For the historians out there, Di Piazza Italian Restaurant is owned and operated by the Di Piazza family (that makes sense!)–it's located in your-"standard" strip-center and has been in business since 1975—that's 37 years for the mathematicians out there.
Regular Jeff Eats' readers know or should know by now, that over the years–I've eaten in a ton of South Florida "mom & pop" red sauce joints—and there are six degrees of separation between the best of breed and worst of breed…for those who don't know what the hell I'm talking about—very little separates the best joints from the lousy joints. When I do-red sauce "mom & pop" I'm looking for big portions of decent food, tons of garlic rolls, endless Coca Cola refills, easy going owners-waiters-waitresses, reasonable prices, no food poisoning and minimal late night indigestion. For what it's worth, some joints get the job done better than others…very rarely does Jeff Eats find a joint that is a total failure–but in all fairness, there are a few.
Anyway…I, Mrs. Jeff Eats and another couple gave Di Piazza a try the other night…and I'm gonna rank Di Piazza right up there with the best of breed. The "sampled" dishes included—veal parmigiana, sausage & peppers, large plain pizza, ziti alla vodka, snapper francaise. Like I said two seconds ago, "best of breed"…absolutely positively some of the best "red sauce" mom & pop stuff Jeff Eats has had down here in South Florida. A bit of color for you guys who like color, the pizza was outstanding…sweet sauce, thin crust. The beautiful thing about the pizza—when the slice was folded and pointed down, oil dripped onto the plate—that's exactly what "us" transplanted New Yoorkers want our pizza to do–drip! The joint also makes garlic rolls, that were drenched in oil and loaded with big chunks of garlic—perfectomente (anyone got spell-check?). Jeff Eats could go on-and-on… just trust me, this joint knows how to make real-good "red sauce" mom & pop veal parm/sausage & peppers etc.
At this stage of the game you can check www.dipiazzarestaurant.com for menu/prices/pictures. For those of you too lazy to type, the menu is loaded with appetizers, pastas, pizzas, subs, meat/chicken/seafood entrees…a large pizza is gonna run you $14.75 and the veal parmigiana entree fetches $15.25. A drop more color…Di Piazza looks like the New York pizza joints, that I use to eat in — back when I had a 34-waist and 15 1/2 neck.
To make a long story short—Di Piazza is a huge-winner.
The joint is open 7 days a week 11am-11pm.