Mandolin Aegean Bistro (Miami)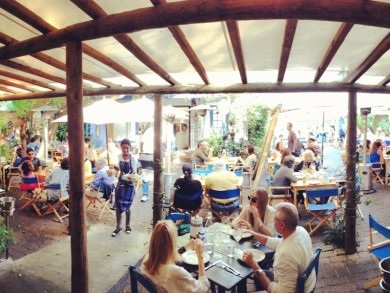 ***** Mandolin Aegean Bistro, 4312 Northeast 2nd Avenue, Miami, Florida 33137, (305) 576-6066.
Got an absolutely terrific casual-reasonably priced Greek/Turkish-joint for you…Mandolin Aegean Bistro in Miami.
Before I get going here, take a look at www.mandolinmiami.com for menu/prices/photos.
Mrs. Jeff Eats, I and another couple gave Mandolin a shot the other night…just so you know, there is inside and outdoor patio seating…the decor will have you "thinking" that you are in the Greek Isles. Real cool and relaxing!
The "sampled" items included…fried calamari, arugula salad, gyro, moussaka, grilled lamb chops, chicken kebab, french fries, orzo pilaf…now you gotta trust me here—the food was delicious. A special shoutout to the fried calamari and the gyro…by the way, the tzatziki that came with the dishes was worth the price of admission alone.
Let me wrap Mandolin Aegean up this way…if you are looking for a real-easy going lunch/dinner in a beautiful setting—you gotta try this joint.
Mandolin Aegean Bistro is open Monday-Saturday noon-11pm and Sunday noon-10pm.