* Shorty's Bar-B-Q (Boca Raton)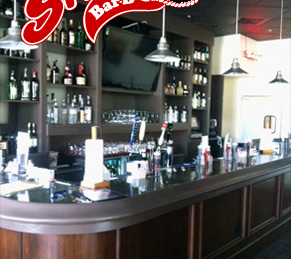 ***** Shorty's Bar-B-Q, 9858 Clint Moore Road, Boca Raton, Florida 33498 (561) 487-0024.
Way back on July 10, 2008 I told you guys about South Florida bbq-chain Shorty's Bar-B-Q…The original "review" is printed below.
Anyway…about 2-months ago a new Shorty's Bar-B-Q opened in Boca Raton…9858 Clint Moore Road, Boca Raton, Florida 33498 (561) 487-0024. During the past 2-weeks Jeff Eats and Mrs. Jeff Eats have eaten there twice and I gotta tell you, the bbq ribs, bbq chicken, french fries, onion rings were delicious. The joint gives you a great bang for the buck and the portions are nice sized. Now, I haven't been to "all" of Shorty's locations, but I think that the Boca Raton location's "design" is a bit different than its bretheren…in that, the Boca Raton joint (unlike the others) has a full bar/separate area…just so you know, prior to "becoming" a Shorty's—the location was home to a seafood restaurant and a Mexican restauarnt and the "bar" layout was in both of them.
To update the original review, Shorty's currently has 3-Miami locations, 1- Davie location, 1-Boca Raton location.
For those of you unfamilar with Shorty's…don't think "smoked" bbq—think Bobby Rubino's or Tony Roma's, or Houston's—for those of you who aren't familiar with Rubino's-Roma's-Houston's, just don't think!
Posted on July 10th, 2008
***** Shorty's-Bar-B-Q, 9200 South Dixie Highway, Miami, Florida 33156 (305) 670-7732.
Shorty's is a South Florida bbq-chain…Its original location on South Dixie Highway has been around since 1951…Shorty's website is www.shortysbbq.com …check the site for locations/menu/pricing.
Shorty's Bar-B-Q is a terrific-casual restaurant… the menu is loaded with delicious appetizers, sides and top-notch pork/beef/chicken bbq…big portions at really reasonable prices. In the South Dixie joint, "you" sit at long tables next to total strangers…at the other 6 locations, Shorty's gives "you" your own table or booth…that's called progress.
Over the years, I must have eaten in the Dixie Highway location at least 10 times. Most recently, I have been eating in Shorty's Deerfield Beach store which opened about 1 year ago. Same delicious food…same portions…same prices…booth and table seating…By the way, the Deerfield Beach joint (if I have read all of the locations' menus correctly) is the only Shorty's that has bbq beef ribs…I have to tell you, that those beef ribs are not just good, but are fantastic…why Shorty's doesn't have them in its other stores is beyond me.
Like I said before, Shorty's is a casual joint…be prepared to get really messy in this joint, because the bbq sauce is all over the place…Shorty's has plenty of paper towels…
Shorty's is open 7 days a week for lunch and dinner.