Rooster's Restaurant (Margate)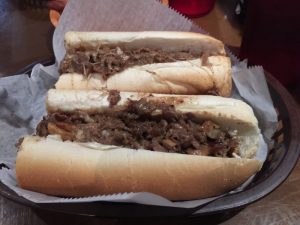 ***** Rooster's Restaurant, 7370 West Atlantic Boulevard, Margate, Florida 33063, (954) 971-6044.
Got a good sports bar for you…Rooster's Restaurant in Margate. Of course it has loads of flat screen tvs and a full bar. The joint also has plenty of outside tables.
Rooster's menu has the full-boat of appetizers, soups, salads, sandwiches, burgers, wings–handful of chicken/meat/seafood entrees….you can check menu/prices at www.roostersmargate.com.
Tried Rooster's last Sunday "doing"—teriyaki buffalo-style wings, philly cheesesteak sub, bacon cheeseburger, pulled pork bbq sandwich, french fries and corn fritters.
Now, you regular readers know that Jeff Eats has done his "fair" share of sports bars…and I gotta tell you, that Rooster's food was good- now nothing off the chart, but good solid bar stuff…the only "negative" the sub bread was a bit too soft for my taste.
If you live in Rooster's neighborhood, you now know about a good joint to watch "the game" at.
Rooster's Restaurant is open Sunday 11am-10pm, Friday-Saturday 11am-11pm.