***** VooDoo BBQ & Grill *****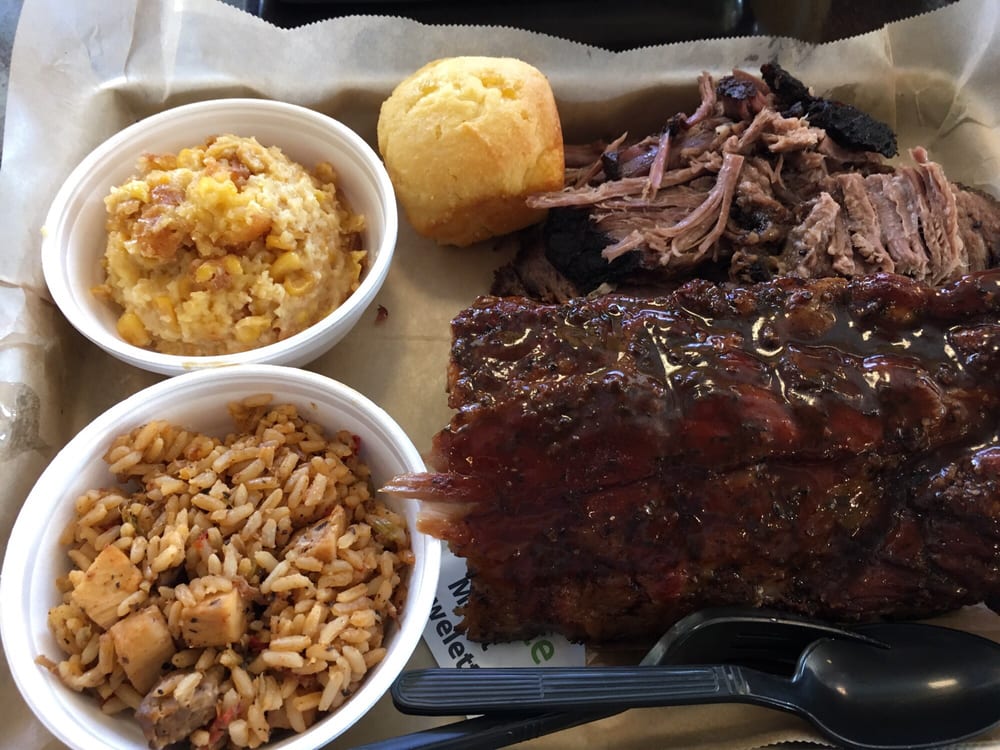 ***** VooDoo BBQ & Grill *****
Friends of mine (yes, Jeff Eats has friends!) who recently visited New Orleans "raved" about fast food bbq joint—VooDoo BBQ & Grill.
Anyway, purely by coincidence-this morning I received a press release about this small bbq chain
From what I understand, 3 South Florida locations are "in the works" for 2013 namely, Pembroke Pines, Kendall and Delray Beach.
Thought you guys might like to be the first to know about a "new" franchise headed our way.
***
From: Todd Templin
Subject: ttemplin@boardroompr.com
Message Body:
For Immediate Release
Media Inquiries:
Todd Templin
Boardroom Communications Inc.
954-370-8999 (office) or 954-290-0810
ttemplin@boardroompr.com
Susan R. Miller
Boardroom Communications Inc.
954-370-8999 (office) or 954-294-4973 (cell)
smiller@boardroompr.com
VooDoo BBQ & Grill is Set to Bring Its New Orleans Magic To Kendall
Lease is signed for 2,500-square-foot location at The Palms at Town & Country
Fort Lauderdale, Fla. – Sept. 27, 2012 – VooDoo BBQ & Grill, the nation's fastest-growing barbecue franchise, will soon bring its Cajun-Creole barbecue fusion menu to Kendall, FL. Its Florida franchisee group, BBQ Boyz, LLC, has signed a lease for 2,500 square feet of space at 8326 Mills Drive in the Palms at Town & Country shopping center. The Kendall location will feature indoor and outdoor seating for 85 people. Construction will begin in the first quarter of next year, with opening scheduled for March 2013.
New Orleans-based VooDoo BBQ & Grill has been recognized as one of the most successful fast casual restaurant franchises in the industry, with locations opening or under development in more than 56 cities and five states. The very first restaurant opened on Mardi Gras Day in 2002, right on the parade route in New Orleans.
VooDoo BBQ & Grill is known for its mouth-watering, competition-style barbecue that stands out from the rest. It features chicken, ribs, pork and brisket that are all hand-rubbed with authentic Cajun spices and then slow-smoked to perfection. And there are three signature barbecue sauces for diners to choose from. For those who might want something different, the menu offers other Cajun favorites like gumbo, PoBoy sandwiches, and a variety of salads and burgers all prepared with the spice and magic of Louisiana. VooDoo BBQ also features down-home side dishes like Gris Gris Greens, Rattlesnake Beans, Corn Pudding, Zapp's Potato Chips, Sweet Potato Souffle, as well as a variety of desserts.
"We are looking forward to bringing a taste of New Orleans to South Florida," said VooDoo CEO Tony Avila. "We know from our research that Floridians love their barbecue and I'm convinced that once they taste our magic, they will be hooked like so many others are."
"When you think of New Orleans you think of Mardi Gras, parties and fun," said Jack Flechner, president of BBQ Boyz, LLC. That's the same vibe you'll find in VooDoo too. I'm expecting that South Florida will eat it up. It's something very new and different for the area."
BBQ Boyz, LLC purchased rights to fund, develop and operate up to 26 VooDoo BBQ & Grill locations in Florida, south of the Panhandle. The first South Florida restaurant will open in Pembroke Pines in November, followed by Delray Beach, Kendall and Fort Lauderdale.
About VooDoo BBQ & Grill
VooDoo opened its first location in New Orleans on Mardi Gras Day 2002. VooDoo serves competition-style barbecue beef, pork and chicken with down-home side dishes, plus salads and sandwiches, in a clean, colorful fast-casual environment. The company is ranked in Entrepreneur Magazine's "Franchise 500" and is also a recipient of the Franchise Business Review's "Top 50 Franchisee Satisfaction Awards." For more information log on to www.voodoobbq.com.
About BBQ Boyz, LLC
BBQ Boyz, LLC is a restaurant development company that is a licensed franchisee of VooDoo BBQ & Grill. The principles have more than twenty five years of collective experience in the restaurant industry and are also licensed attorneys and experienced developers. For more information log onto www.thebbqboyz.com.