***** WALMART ANOTHER CRAP COMPANY *****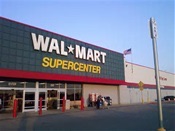 ***** WALMART ANOTHER CRAP COMPANY *****
About two weeks ago, Mrs. Jeff Eats needed to buy a new 2-slice toaster.
Mrs. Jeff Eats went to Town Center at Boca Raton and bought a toaster from Macy's which was on sale for $39.95.
That evening, Mrs. Jeff Eats checked Walmart's website and found the exact same toaster listed at $13.95. Mrs. Jeff Eats also checked the website and confirmed that the toaster was available at the Walmart Supercenter, 16205 South Military Trail, Delray Beach, Florida 33484.
The next morning, Mrs. Jeff Eats returned the toaster to Macy's and went to the Walmart Supercenter where she learned that the 2 slice toaster wasn't carried by the store despite the website "saying" that it was.
The following day, Jeff Eats wrote an e-mail and called Walmart's complaint-line advising Walmart of the incident.
A few days later, Jeff Eats received a call from the Walmart Supercenter's manager who advised that Jeff Eats and Mrs. Jeff Eats should come to the store at our convenience and pickout "any" toaster that we liked and that even if it was more expensive we would only be charged $13.95.
Three days later, Jeff Eats and Mrs Jeff Eats went to the Walmart Supercenter. Jeff Eats picked out a 4 slice toaster from the display priced at $39.95 but was advised by a sales associate that Walmart was out-of-stock. Jeff Eats personally advised the manager, who called Jeff Eats later that day and advised that the item was on back-order, but that he would scout around other stores and see if he could find one for Jeff Eats. Jeff Eats asked him, as to why Walmart would keep a "sample" on display if an item was on back-order? The manager really had no answer. He later called and left a message that one had been found.
Yesterday morning, Jeff Eats received a call from a woman who said that she was the manager's assistant and advised that either "today" or tomorrow Walmart would deliver free of charge the toaster to Jeff Eats' home and the total charge would be $10.18 because the manager had "given" Jeff Eats a further discount.. The woman was given directions to Jeff Eats' home. The woman said she would have the delivery person call 30 minutes prior to the delivery.
No delivery call yesterday. No delivery call today.
About 70 minutes ago, Mrs. Jeff Eats bought a new 2 slice toaster at a local Target Store.
WALMART IS A CRAP COMPANY.
What do you guys think?
*****
Septmber 28, 2012 UPDATE
Received a call this morning from the Linton store's GM who arranged and then personally delivered to Jeff Eats' home a 4-slice toaster priced at $10.18.
So…what have we learned from this exercise…the little guy can "win" if he is persistent and doesn't take "no" for an answer…and that Jeff Eats now has 2 toasters, a 2-slicer from Target and a 4-slicer from Walmart.
.