***** GOT A FREE MUSIC EVENT FOR YOU *****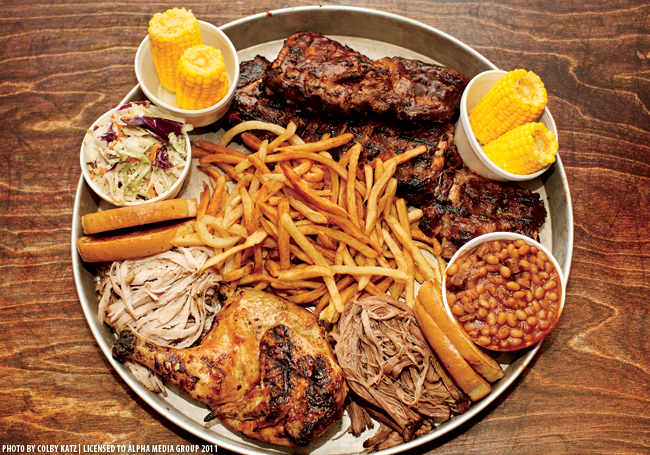 ***** GOT A FREE MUSIC EVENT FOR YOU *****
Wanna go to a terrific FREE music event?
Back on February 2, 2010 I told you guys about Rock N Roll Ribs a terrific bbq joint in Coral Springs.
The original writeup is re-printed below.
To make a long story short…last, year Rock N Roll Ribs "started" an annual music thing—where the joint takes over its shopping center's parking lot, tents it—and holds an enormous FREE- ALL DAY CONCERT starring Rock N Roll Ribs' owner Nicko McBrain (who is the drummer of heavy metal band "Iron Maiden") and a handful of local rock n roll bands. The music is free, with Rock N Roll Ribs hoping that you "buy" its beverages and food both under the tent and inside its restaurant.
Unfortunately…I didn't make it to last year's event, but numerous people told me, that it was absolutely terrific with hundreds of people attending. By the way, appreciating that "heavy metal" music isn't everyone's bag, Rock N Roll Ribs has scheduled all "types" of bands to perform.
If this type of thing interests you— here's 2012's info…
The "event" will be held on Saturday, October 13, 2012. The first band hits the stage at 2pm and the music goes until 10pm.
***** Rock N Roll Ribs, 4651 State Road 7, Coral Springs, Florida 33073 (954) 345-7429.
Rock N Roll Ribs is a "bbq joint"…it opened about 3 months ago…one of its co-owners is Nicko McBrain, the legendary drummer of the metal-band Iron Maiden…by the way, Nicko lives in Boca Raton. So, you now know— how "it" probably got the name Rock N Roll Ribs. The joint, has videos of bands playing, records on the wall, hanging guitars and a drum set as its decor. Rock N Roll Ribs is located in a shopping center on State Road 7…I think there are more empty stores than going businesses. Personally, I think that the spot stinks, but hey, it ain't my dime! The joint isn't all that big, maybe 80 seats. From what I understand, although Nicko is one of the owners and hangs out there- when he is in "town" (he wasn't there, last night), it is run by "Moby" Rick Baum who according to the joint's "pr" has an extensive background in developing/opening/running restaurants—the guy also plays guitar in Nicko's (other band) McBrain Damage… What I can tell you, based on last night's meal, this guy Moby Rick knows his bbq.
At this stage of the concert, check www.rocknrollribs.org for menu/prices/photos.
Now let's talk food…tried- baby back ribs, bbq chicken, pork sandwich, cheese burger, french fries, garlic toast—this is some of the best bbq that I have had "down here" in South Florida. This joint's bbq is not heavy-smokey, but rather "sweet" grilled stuff, that is right on the money.
On the pricing front—very reasonable…a full rack of baby back ribs with garlic toast and 2 sides goes for $15.95…a 1/2 chicken with garlic toast and 2 sides $12.95.
On the service side—very pleasant and efficient waitstaff.
Like I said before, 80 seats, looks better than a Hard Rock Cafe, real good food, real good prices, real good service, lousy location. Hey! Nicko and Rick, you got a great concept here…I just hope that people "find" you.
One final thought, you might like to check www.ironmaiden.com and www.myspace.com/mcbraindamge and read about Nicko and Rick's music and bandmates. Just so you know, Nicko-is considered by many, to be one of the top rock drummers of all-time.
I really enjoyed Rock N Roll Ribs.
The joint is open 7-days a week 11am-10pm.
31 Comments to "Rock