BJ's Restaurant & Brewhouse (Pembroke Pines)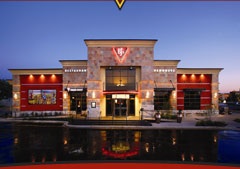 ***** BJ's Restaurant & Brewhouse, 12100 Pines Boulevard, Pembroke Pines, Florida 33026, (954) 430-3545.
BJ' Restaurant & Brewhouse "American Style" chain…for right now, BJ's has 125 restaurants in 14 states…61 of the joints are in California, 27 in Texas—for our purposes there are 9 Florida locations- 1 in Pembroke Pines, 1 in Citrus Park, 1 in Clearwater, 1 in Daytona Beach, 1 in Gainesville, 1 in Jacksonville, 1 in Kissimmee, 1 in Orlando, 1 in Pinellas Park.
Best way to describe BJ's decor..looks like J. Alexander's, looks like Houston's, looks like (you insert the name) your favorite dark wood sports bar.
You can check BJ's menu/prices/locations at www.bjsbrewhouse.com. The joint's menu is loaded with appetizers, salads, burgers, sandwiches, meat/seafood/chicken entrees, beers/full bar.
Jeff Eats recently had dinner at BJ's in Pembroke Pines…babyback ribs, bacon cheeseburger, grilled pork chops, bbq pulled pork sandwich, chicken fried steak…
Let me make this one short and simple, the food was okay, but not one item really stood out. Really-nice looking joint. Pleasant enough service. Fair enough prices.
BJ's is OK…but that's about it.
The joint looks better than its food tastes, so you are setup for a huge disappointment when the food arrives.
BJ's is open Sunday-Thursday 11am-midnight and Friday-Saturday 11am-1am.