Rock Fish Grill (Miami)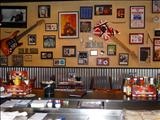 ***** Rock Fish Grill, 12042 Kendall Drive, Miami, Florida 33186 (305) 271-1251.
Let's call Rock Fish Grill a mom & pop "American Style" neighborhood joint.
Rock Fish has a "nice" menu of very reasonably priced appetizers–salads–burgers–sandwiches—meat/chicken/seafood entrees–beer/wine. From what I saw, there is an emphasis on the seafood stuff, thus explaining the FISH in the joint's name. When you check menu/prices at www.rockfishmiami.com you'll see what I'm talking about…there are also tons of photos.
I "call" Rock Fish Grill a "mom & pop" joint, because that's exactly what it is…the decor is very heavy on phony-Rock N' Roll memorabilia…not to be nasty or nothing, but the kinda stuff that you can buy in the mall or a novelty shop…Just so we are straight, Jeff Eats really enjoyed the Rock Fish Grill–but faux is faux. For those of you who haven't figured it out yet, this is a real casual joint so your shorts-tee shirt-flip flops' ensemble works fine here.
Let's talk food…conch fritters–bacon cheeseburger/french fries–teriyaki skirt steak–sauteed garlic sea scallops–grilled salmon. Let me make this-short and simple, there is nothing faux about the food. Everything and I do mean everything was delicious.
So what do we have here? A really good neighborhhod "American Style" joint.
Reflecting back on all of the above, I must have gotten out of bed on the wrong side…the phony Door's hand-bill isn't really all that bad!
Like I said before, Jeff Eats really-enjoyed the Rock Fish Grill. If you live or work in the area, give this one a try, you won't be disappointed.
Rock Fish Grill is open Tuesday-Thursday 11am-9:30pm, Friday-Saturday 11am-10:30pm, Sunday noon-9pm, closed on Sunday.