Whiskey Dicks (Orlando)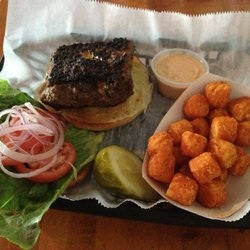 ***** Whiskey Dicks, 50 East Central, Orlando, Florida 32801, (407) 540-0445.
Whiskey Dicks…real good "sports bar" in Orlando…
Let's make this one short and simple…some of the best sports bar food old Jeff Eats has had in a very-very long time.
Whiskey Dicks' menu is kinda "narrow"… basically–appetizers, burgers, hot dogs, sandwiches.
A Jeff Eats' "taste test" had me doing, meatball appetizer ($6.95)–beer battered onion rings ($5.95)–bacon cheeseburger with waffle fries ($8.95)–philly chicken cheesesteak sub with waffle fries ($8.95)–chicken salad/whole wheat toast with waffle fries ($6.95)…trust me on this one, Whiskey Dicks makes real good sports bar stuff. Throw in loads of flat screen tvs, all types of booze and beers- and Whiskey Dicks handily gets the job done. One special shout-out to that bacon cheeseburger—I loved you!
Just so we are straight, like I said a few seconds ago, the menu is kinda limited—so don't go looking for all kinds of meat/chicken/ seafood entrees.
You can check menu/prices at www.whiskeydicks-orlando.com.
Whiskey Dicks is open Monday-Saturday 11am-2am, Sunday noon-2am.