Tower Of Pizza (Key Largo)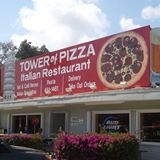 ***** Tower Of Pizza, 100600 Overseas Highway, Key Largo, Florida 33037, (305) 451-3754.
Got an "OK" Pizza-Italian joint for you…Tower Of Pizza in Key Largo.
Tower Of Power–is located in a free-standing building and has been around since 1975…I seriously doubt that the inside/outside has been "updated" in 37 years. When you walk in, it looks like a diner/pizza joint/general store circa 1975. To Jeff Eats' "eye" the inside/outside looked really retro and cool…that's basically why I gave it a shot.
Just so we are straight with each other, the operative word in this review is "OK" (if that's a word)…This mom & pop red sauce joint has the full boat of appetizers, pizzas, pastas, subs, meat/chicken/seafood entrees. Jeff Eats recently did a "lunch" there… Greek salad, pizza, veal parm sub, sausage & peppers sub, philly cheesesteak sub, garlic rolls…like I said a few seconds ago, OK-stuff…Now don't get me wrong, Jeff Eats enjoyed everything…the folks who run the joint are as pleasant as can be…the prices are borderline dirt-cheap—all I know-if I was a 19 year old-college kid eating with my friends-I would have enjoyed Tower Of Pizza's food more than I did.
You can check menu/prices at www.towerofpizzakeylargo.com.
The joint is open 7 days a week 11am-11pm.