Smokey Bones Bar & Fire Grill (Boca Raton, Fort Lauderdale, Wellington, Plantation, Melbourne, Orlando)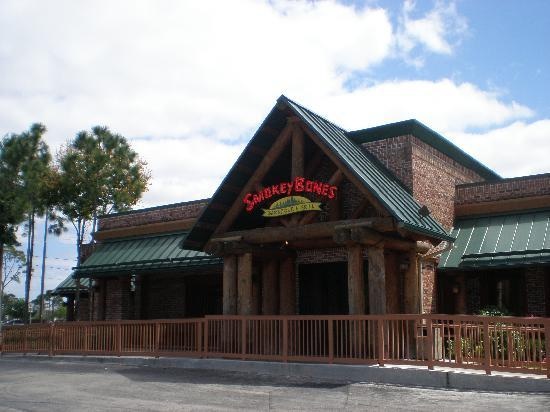 ***** Smokey Bones Bar & Fire Grill, 21733 State Road 7, Boca Raton, Florida 33428, (561) 852-7870.
Smokey Bones Bar & Fire Grill is an "American Style–BBQ" joint…it currently has 66 stores primarily located in 17 eastern states. For our purposes, there are a handful of locations in South Florida. You can check www.smokeybones.com for menu/prices/locations.
Just some quick background information– the original Smokey Bones opened in Orlando in 1999…rapid growth "failed" with a number of stores closing…current owner Sun Capital Partners is currently working on a rebranding plan…the chain's original name was Smokey Bones Barbeque & Grill—the current plan is to down play the bbq "aspect" and make the restaurants more "sports-bar-like."
Not exactly sure on the date, I'm figuring 7-8 years ago…Jeff Eats "tried" the then newly opened Smokey Bones in Boca Raton…suffice it to say, the food was absolutely terrible. Jeff Eats hadn't been back "until" last night.
To be perfectly honest with you, Jeff Eats can't comment on whether or not the Boca Bones that I was in last night has been remodeled—can't recall what the original store looked like. If I was betting, not many changes, if any at all. Just so you know, woody look, flat screen tvs, bar area…absolutely no problem with the look of this joint. The problem way back when was the food.
Last night Jeff Eats "tried" fried chicken wings in a sweet tangy sauce, babyback ribs, bbq chicken, french fries, corn nibblets, mashed potatoes. The report—the wings were delicious. the ribs and bbq chicken were also in a "sweet" sauce–the ribs were okay but nothing to get nuts over–the chicken was lousy–trust me, the sauce instead of being sweet had a bitter taste. The french fries were good and the mashed potatoes were delicious. The corn nibblets were okay but nothing special.
Very reasonable prices, good sports bar service.
Would Jeff Eats go back? Definitely not a boisterous-booming YES!!! but more of a lower-case "yes"…that's assuming Jeff Eats isn't forced to eat the BBQ chicken– it really was that bad!
As I mentioned a few minutes ago, the first time Jeff Eats was there, the food was horrendous. The second outing, the food was a "mixed bag"…
The way to "treat" Smokey Bones' food…average at best–sport's bar stuff.
Smokey Bones is open 7 days a week for lunch & dinner.