Salt Life Food Shack (Coral Springs, Jacksonville)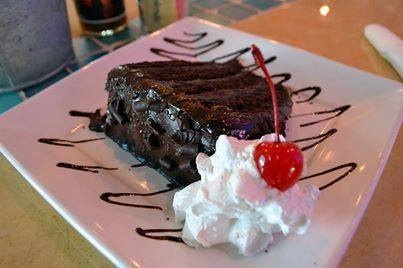 ***** Salt Life Food Shack, 2660 North University Drive, Coral Springs, Florida 33065, (954) 340-7258.
Got a really-good casual "American Style" joint for you, Salt Life Food Shack in Coral Springs. Just so you know, the original Salt Life Food Shack is located in Jacksonville and according to the company's website a third-outpost will soon open in Stuart, Florida.
Last night Jeff Eats and Mrs. Jeff Eats ate dinner at Salt Life…the Coral Springs joint has been around for something like 4 months…like I said a few seconds ago- a real casual looking restaurant that plays up the "nautical" theme…big fish decorations, outdoor patio/indoor seating. The joint has a full bar and a menu loaded with reasonably priced appetizers, sushi, salads, wings, sandwiches, burgers, meat/chicken/seafood entrees. The menu is "heavy" on seafood stuff, but the selection is so broad—that everybody in your party will find something really good to eat. Check www.saltlifefoodshack.com for menu/prices/tons of photos.
If I got my facts right, Salt Life in Coral Springs is about 6,000sq feet—it use to be a Longhorn Steakhouse. Not sure on the number, but the owners went for some heavy duty cash "building" this joint…check the websites' photos, it's a really cool looking joint. Like I said before, real casual, so your tee shirt/shorts/flip flops ensemble will do well here.
Last night Jeff Eats "sampled"…fried chicken wings in a sweet & sour sauce (5 for $4.99), crunch roll (tempura battered tuna-$7.49), 8oz cheeseburger & french fries (Sunday Special $4.99 for the burger and $1.99 for the fries), 1/2 roast chicken with corn on the cob (Sunday Special $9.99), soft shell crab blt ($8.99). No fooling around here…every item was delicious. Really not going to waste my time or yours putiing the "stuff" in some type of pecking order…everything was right on the money. Speaking of money, the prices were very reasonable– especially if you take advantage of the "daily specials" like Jeff Eats and Mrs. Jeff Eats did last night.
I really enjoyed Salt Life Food Shack… the food is very good, it's a great looking place, prices are right and the "help" is as pleasant as can be…and for you sports folks—its got a ton of flat screen tvs for you to watch. Just a quick thought, I'm not too thrilled with this year's Olympics. When I was a kid, we use to root against the Russians, East Germans—but without a Cold War our enemies just aren't the same—now let's be serious here, what's Iran gonna win anyway?
One final thought, when Jeff Eats eats—he watches all kinds of things. Like are the bathrooms clean…just between you and me and the wall, I kinda like to hold things in, if I can- until I'm seated on my own throne…maybe I'm sharing too much information with you—anyway, I noticed that Ian the joint's GM seemed to vist with every table checking on how things were going. Finally our waitress Erin who-to date has completed 1-year of Nova Law School–made sure that our order came out perfect and that my Coke glass was filled 4-times.
Salt Life Food Shack is open Sunday-Thursday 11;30am-11pm and Friday-Saturday 11:30am-midnight.