Silver Pond (Lauderale Lakes)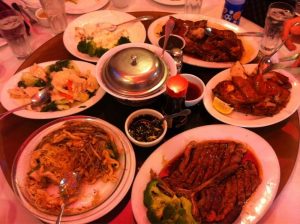 ***** Silver Pond, 4285 North State Road 7, Lauderdale Lakes, Florida 33319, (954) 486-8885.
Back on December 13, 2006 Jeff Eats did a "story" on Silver Pond a Lauderdale Lakes Chinese joint…suffice it to say, I absolutely hated the food. Well! Almost 6-years have come and gone since that initial-review and during that time Jeff Eats-received numerous positive written and verbal comments about Silver Pond. Many who corresponded, insinuated that Jeff Eats was crazy and that Silver Pond was one of the best, if not THEE BEST Chinese restaurant in South Florida…I will tell you included in THEE BEST group was Brother Jeff Eats and Brother Jeff Eats' wife, Sister-In-Law Jeff Eats. Now nothing for nothing, Jeff Eats is one tough-cookie…despite that "toughness" last night I finally gave-in and gave Silver Pond another try.
Applying my Brooklyn-Jewish-Chinese taste-test circa 1959…I "sampled" wonton soup, roast pork fried rice, bbq ribs, pan fried dumplings, sweet & sour chicken, sweet & sour pork chops, general tso's chicken, lobster in garlic sauce, roast duck…
Here's my "current" take on Silver Pond…the wonton-soup was good, but not great—the roast pork fried rice was good, but I've had better—the bbq ribs were delicious, right up there with best of breed—the pan fried dumplings were delicious—the sweet & sour chicken was very good—the sweet & sour pork chops were delicious—the general tso's chicken wasn't too good—the lobster in garlic sauce was delicious—the roast duck was delicious.
Would I go back? Absolutely! Can't really give you an answer as to why my 2006 and 2012 "opinions" are so diametrically opposed. What I do know, is that when I ate there in 2006 the food stunk…I also know, that last night's meal was very-very good. Go figure!
I think, actually I know that if you do a simple Silver Pond "search"—you will find numerous "comments"—that the joint has 2- menus, one in English and one in Chinese—that this is a "real" Hong Kong Style Chinese Restaurant—that this is an "authentic" Chinese restaurant not some Cantonese fast food joint—that the joint is always jammed with Chinese people eating there…for what it's worth, Jeff Eats learned a long-long time ago that South Florida is loaded with balmalochas (for those who don't know, balmalochas is the sarcastic yiddish term for "experts")! For what it's worth, most people (Jeff Eats included) don't have a clue as to what good Hong Kong Chinese food is all about. Hell! I can't even figure out how to use a pair of chopsticks. What I do know, is that my Brooklyn sensibilities tell-me, that I enjoyed almost every dish I had, the prices were "mom & pop" Chinese restaurant reasonable, there was a ton of food, the service was just fine, that I enjoyed eating with my family and that Brother Jeff Eats picked up the check!
In closing, Jeff Eats is really glad that he was "talked" into trying Silver Pond again.
Silver Pond is open Monday, Wednesday-Friday 11:30am-midnight, Saturday-Sunday noon-midnight, closed on Tuesday.