Bagel Emporium & Grille (Coral Gables)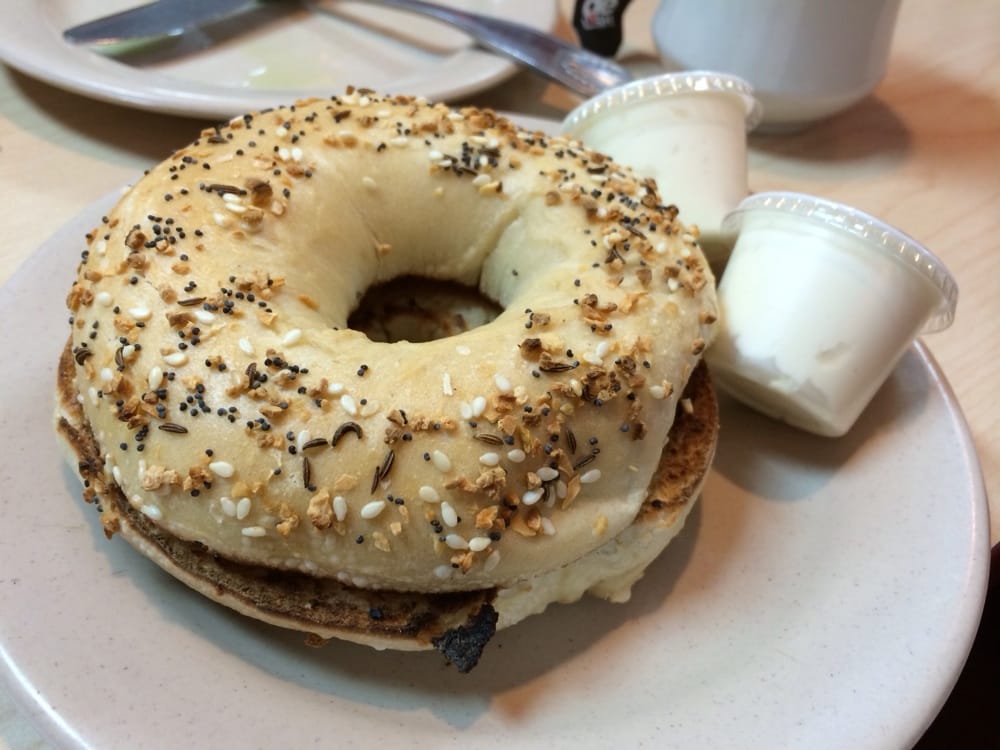 ***** Bagel Emporium & Grille, 1238 South Dixie Highway, Coral Gables, Florida 33146, (305) 666-9519.
If you are over the age of 1 1/2—you know exactly what this Monday-Sunday 7am-3pm bagel joint looks like and what's on its menu.
For those 17 months or younger— booth and table seating, deli display cases, bagels & bialys in wired baskets…all kinds of bagels, breakfast stuff, deli meats, soups, salads, sandwiches, knishes, fish platters.
To confirm what you know, think you know, or don't know…check www.thebagelemporium.com for menu/prices.
I'm gonna guess here…I'm figuring the joint has been around -at least 25 years and looks "today" just as it did when it first opened.
Let's talk food…
Recently did breakfast with Mrs. Jeff Eats. I did a western omelette and she had a corned beef omelette. Real good stuff.
Also did a takeout order…Took home a mixed bagel-dozen—plain, everything, pumpernickel, onion, poppy. The guy(s) who own this joint makes dynamite bagels. Looks to me like they're boiled and then baked. Jeff Eats has eaten his fair share of South Florida bagels, Bagel Emporium's are right up there with best of breed. That takeout order also included, 1/2 lb tuna salad, 1/2 lb chicken salad, 1/2 whitefish salad, 1/2 egg salad. Like the omelettes-real good stuff.
Based on breakfast and that takeout order…I'm gonna bet, that the "rest" of Bagel Emporium's stuff is also real good. I got a "good" feel for this one.
One final note, this morning at 10:45 am I called Bagel Emporium. The phone was "answered" by an automated system, that eventually put me through to a live young-lady…I told her that I was writing a FAVORABLE article about Bagel Emporium and wanted to know—1. How long the store had been in business? 2. How many did it seat? 3. Were the bagels first boiled and then baked?—As you can see, these were real-tough questions. She said she didn't know, but said she would "get" someone who did know, she then disconnected me. I immediately called back, got the same young-lady and told her she had disconnected me and she said and I quote, "He said he's too busy to talk to you. Call back later or tomorrow." I said, "I'm writing a FAVAORABLE ARTICLE right now, are you sure he can't take two seconds to talk to me?"—and she hung up.
Anyway, you now about Bagel Emporium & Grille.