Platforms Dance Club (Boca Raton)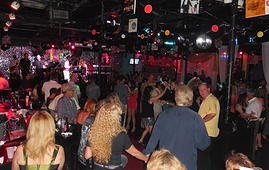 ***** Platforms Dance Club, 99 Southeast 1st Avenue, Boca Raton, Florida 33432, (561) 392-6885.
Platforms is a 70s-80s-90s disco dance club in Boca Raton. The joint is about 4500 square feet, has 2- full bars and is decorated retro-look 70s-80s-90s…no food is served, but the staff "on request" will pickup up bar-style stuff from the next door sports bar. There is no admission or cover charge…the joint is open Friday and Saturday nights from 8pm-2am. Fridays feature some of South Florida's best cover and tribute bands—Saturdays feature a dj spinning the best music of the 70s, 80s and 90s. You can check www.platformsnightclub.com for Patforms' entertainment schedule/photos.
Platforms has been around since June 2011. To be perfectly honest with you, when Jeff Eats first heard about Platforms–the whole concept sounded kinda hokey to me…the name Platforms did absolutely nothing for me–and had me conjuring up in my mind, Vinnie Barbarino running around in a big old white polyester suit.
Anyway…I gotta tell you that I totally "missed" on this one… I and Mrs. Jeff Eats recently stopped in and-found Platforms to be a real fun joint that does a great job in bringing the sounds of the 70s-80s-90s back to life. The night we were there, Platforms was packed—I'm gonna guess–that at least 250 people ages 30-60 were partying away…and not one person was decked out in a white polyester suit. The night we were there, Anthology one of South Florida's best Beatles tribute bands was headlining…and yes, I know, that The Beatles were a 60s group-you can take that "one" up with the joint's owner!
Anyway…it was an absolute blast dancing to some really great covers.
If 70s-80s-90s music is your bag, I highly recommend that you give Platforms a try. Like I said a few seconds ago, Jeff Eats and Mrs. Jeff Eats had an absolute blast…something different to "do" on a Friday or Saturday night.