Shuckers On The Beach (Jensen Beach)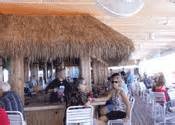 ***** Shuckers On The Beach, 9800 South Ocean Drive, Jensen Beach, Florida 34957, (772) 229-3006.
Shuckers On The Beach…for our purposes let's call it a real casual "American" restaurant located at the Island Beach Resort in Jensen Beach.
When I "think" Shuckers- I'm thinking that this is an absolutely great joint to bring your out of town New York friends/relatives for either lunch or dinner (the joint also does breakfast on Sunday). As you guys eat on the outside patio–right on the OCEAN, they will be mumbling to themselves, how come I'm still living in a two-bedroom-two bath apartment on Queens Boulevard. Just so you know how to play Shuckers although it has an inside dining room, "feed" your guests outside–for full Florida impact.
At this stage of the game you can check www.islandbeachresort.net for menu/prices and loads of pictures.
Now nothing for nothing, we aren't talking gourmet food here. What we are talking- decent enough stuff in a great "setting." As a matter of fact, almost every day starting at 2pm Shuckers has live bands and other entertainment—so if you are-wanting to really rub it in, check the entertainment schedule so you'll know as to exactly when to eat lunch or dinner at Shuckers. As if I didn't have to tell you, if you aren't in a bathing suit, shorts ensemble or something really-casual, you will feel really out of place.
Jeff Eats recently did lunch at Shuckers…"did" conch fritters appetizer, crab cake appetizer, chicken ranch wrap, blackened mahi-mahi sandwich, cheeseburger, french fries, onion rings. The food is good-"sports" bar quality. For those of you haven't yet checked Shuckers' menu, its got the fullboat of expected appetizers, sandwiches, salads, burgers, meat/chicken/seafood entrees…there is a bit of emphasis on seafood items. On the price front, keep in mind that this joint "is" located in a resort, so as Jeff Eats often finds- the prices are a few bucks more, but nothing that's gonna kill you.
I really enjoyed Shuckers.
One final thought–in checking Shuckers' entertainment schedule, it appears that 2-Fridays a month starting at 8pm it has The Critters on its stage. For those of you who aren't familar with this band–in the 1960's this group had Billboard chart hits with "Mr. Dyingly Sad"–"Younger Girl" and "Don't Let The Rain Fall Down On Me"– Trust Jeff Eats (see 1/30/11 review) on this one, The Critters are one of the best oldies/party bands currently working the South Florida country club/bar-restaurant circuit.
Shuckers is open for breakfast on Sunday 8am-11am, Monday-Sunday for lunch/dinner 11am-9pm, its Tiki bar is open Monday-Sunday 11am-close.