Chick-fil-A (Wellington)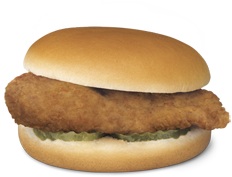 ***** Chick-fil-A, 10300 West Forest Hill Boulevard, Wellington, Florida 33414, (561) 333-4242.
To make this one "easy" I copied the following from national fast-food chicken chain Chick-Fil-A's website—www.chik-fil-a.com:
"It all started in 1946, when Truett Cathy opened his first restaurant, The Dwarf Grill, in Hapeville, Georgia. Credited with inventing Chick-fil-A's boneless breast of chicken sandwich, Mr. Cathy founded Chick-fil-A, Inc. in the early 1960s and pioneered the establishment of restaurants in shopping malls with the opening of the first Chick-fil-A Restaurant at a mall in suburban Atlanta in 1967. Since then, Chick-fil-A has steadily grown to become the second largest quick-service chicken restaurant chain in the United States, with over 1,615 locations in 39 states and Washington, D.C. In 2011, annual sales were over $4.1 billion. Chick-fil-A is still privately held and family owned."
*****
I'm gonna assume that everyone here is familar with Chick-fil-A…for our purposes, according to the Company's website it currently has 155 locations in Florida…these "joints' are all over the place with free-standing units as well as mall food court locations.
For those of you who don't "know" about Chick-fil-A…the primary item sold is a lightly breaded/pressured cooked chicken breast…this item comes on a bun, in a salad, in a wrap or in nugget form–Chick-fil-A also has a chargrilled chicken and chicken salad…the joint does waffle fries and a handful of desserts. To liven up the discussion, we could "talk" about the religious/moral reasons why Chick-fil-A's locations are closed on Sunday, but we won't. We could also talk about its franchising business, which is just a "glorified" extremely well paying job for its franchisees, but we won't. We could also talk about the Company's long running "battle" with America's gay-community over what the definition of "marriage" is, but we won't. For those of you who like to "dig deeper"—do some online searching—the Chick-fil-A "story" is a real interesting read…Anyway, no matter how you slice it, Chick-fil-A is an amazing business success story…just imagine what its "numbers" would be if those 1,615 locations were open on Sunday!
This past Saturday afternoon, Jeff Eats found himself sitting in the food-court at The Mall At Wellington Green in Wellington—waiting patiently for 1-hour as Mrs. Jeff Eats shopped for God Only Knows For What! To be perfectly honest with you, Saturday isn't usually a "mall-day" for Jeff Eats…Sunday, maybe—but Saturday is a rarity. I'll betcha you a nickel, that most of you guys right about now "see" where I'm going with this tale…Anyway, low and behold right in front of me is this Chick-fil-A outlet pumping out a ton of stuff—and believe it or not, Jeff Eats in all his years has never-ever "had" anything from Chick-fil-A. So, I ordered the breaded chicken breast which came on a toasted buttered bun with pickle chips, a chicken salad sandwich on wheat bread, waffle fries. Let me make this real simple, the food was absolutely dynamite. Absolutely one of the best "fried" chicken items I've ever eaten—same for the chicken salad—the fries which were lightly salted were also delicious.
Let me wrap Chick-fil-A up this way…
Prior to eating this joint's food, I really didn't "appreciate"- why it had so many outlets, legendary loyal customers and the ability to be "closed" on Sunday. I do now…this is one Hell (oops!) of a fast-food chain.