Cafe Vincenzo (Margate)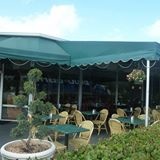 ***** Cafe Vincenzo, 5801 Margate Boulevard, Margate, Florida 33063, (954) 973-3400.
Got a good- Italian restaurant for you…Cafe Vincenzo- located in a "bombed-out" Margate shopping center.
Cafe Vincenzo- seats maybe 165 inside and another 150 on an outside patio. The joint looks like something right out of New York City's Little Italy…loads of string-lights and the right amount of tackiness to make it really–cool. A full bar and a humongous flat screen television add to the decor.
Last night–I, Mrs. Jeff Eats and another couple gave Cafe Vincenzo a shot. "Sampled" stuff included–meatball appetizer ($9.95), small 14″ pizza ($10.95), house salad, spaghetti marinara, zuchini cream soup, veal parmigiana ($18.95), chicken scarpaiello ($17.95), baked lasagna ($13.95), shrimp scampi ($16.95)…most entrees come with soup/or salad and a pasta side…you can check menu/prices/information at www.cafe-vincenzo.com.
Let me give you some brief-history here…Cafe Vincenzo is located in the exact- same spot where Trattoria Bella Cibo (reviewed 11/14/10) was…I have no idea why Trattoria Bella Cibo closed, but it appears that a fellow named Vincent Chase purchased the "location" in late December 2011 keeping the exact same decor but bringing in a whole new staff, chef and menu. For those of you who may-be curious, no- this Vincent Chase isn't the "fictional" Vincent Chase of HBO's Entourage series. I will tell you, that this Vincent Chase is as personable as can be and during the 3 hours we were there, he made the rounds checking every table. Not to be accused of being a sexist– his wife Lynn, who serves as the primary hostess is also as personable as can be-also making the rounds to make sure everything was A-OK.
Last night we arrived at 8pm. Just so you know, this is a real casual joint, so basically any type of "dress" goes. When we arrived, the restaurant's patio had a private party going on…from the look of things, the folks were having a blast. Inside, about half-of the joint's tables were taken and the full service bar area had about 75 or so. For what it's worth, Cafe Vincezo was very 'busy" for a Saturday night in July down here in South Florida.
When you check Cafe Vincenzo's website, you will find that it has live entertainment Wednesday-Saturday nights. Last night a really good 3-man singing group "Now & Then" dished-up doo-wop, disco and standard covers…these guys were very entertaining and had many in the bar area up and dancing.
Now let me get back to the food…is this the best red sauce Italian stuff that I've eaten? Nope! I will tell you, that I really enjoyed the pizza (thin crisp crust, sweet sauce)…I thought, that- the on the bone chicken scarpaiello was absolutely delicious–the rest of the food was okay- but nothing to get nuts over. Trust me, I've eaten better and then again, I've eaten worse. Based on food alone, would I go back? Sure, but like most joints that Jeff Eats has been to, Cafe Vincenzo does some dishes better than others. Hey Vinnie if you are reading this, lose the dipping bread in olive oil gig and get some real garlic bread or garlic knots on the table—throw another cutlet into the veal parmigiana dish-the portion is a bit on the skimpy side. One other thing, I love sweet marinara sauce-actually I could drink-a quart of it for breakfast every day-the one you got is a drop too sweet even for a guy like me. These few things are no biggies, easily handled.
When you check Cafe Vincenzo's website you will find that the joint is open, Sunday & Tuesday 4pm-9pm, Wednesay 4pm-9:30pm, Thursday 4pm-11pm, Friday 4pm-midnight, Saturday 4pm-1am, closed on Monday.
Let me sum Cafe Vincenzo up for you…last night Jeff Eats, Mrs. Jeff Eats and our friends had a terrific time. The food as described was just-fine. What made the night special was, the joint's fun atmosphere. As I mentioned, during the 3 hours that we were there, we were entertained by "Now & Then"…while they were on, people ate and moved around the room, talking to total strangers at other tables…it was like a big house party. During the evening, entertainers from other local singing groups "guest appeared" and sang with the group…I even spotted song-writer/record producer Paul Vance eating and partying with the crowd…you do recall the hits, "Catch A Falling Star" (Perry Como)–"Gina" (Johnny Mathias)–"What Would My Mary Say?" (Johnny Mathias)–"Tracy" (The Cufflinks)–"Leader of The Laundry Mat" (The Detergents)— and "Itsy Bitsy Teeny Weenie Yellow Polka Dot Bikini" (Brian Hyland)–don'tcha?
Let's do it this way, for the same amount that it would have cost us to eat at almost any local mom & pop red sauce joint…we- instead got to "attend" a real fun party.