Richie's Gourmet Italian Ices (Fort Lauderdale)
***** Richie's Gourmet Italian Ices, 898 East Commercial Boulevard, Fort Lauderdale, Florida 33334 (954) 772-1183.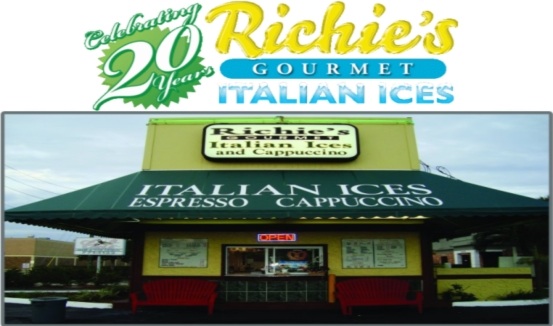 Let me make this "one" real-simple…if you like "Italian Ices" (and who doesn't?) you are gonna love Richie's Gourmet Italian Ices in Fort Lauderale.
As a kid growing up in Brooklyn in the 1950s-1960s- I was literally raised on pizza slices and Italian Ices. Back then, slices were 15 cents and ices in a paper squeeze cup ran a nickel a scoop. For you purists out there, that 15-cent slice (in my neighborhood, anyway) jumped to 20 cents in 1966. Anyway…
Back then, my modus operandi was to have 2 slices with a large Coke in the pizza joint…and then get two scoops–1 lemon and 1-cherry to go. The whole "bill" 50 cents…for you math mavens, assuming that I'm talking 1964, how much did the large Coke cost?
For you youngsters out there, back in the 50s and 60s the pizza joints- for sure "had" cherry and lemon and just maybe chocolate and rainbow…but that's it! Just so you know, back then and even today, it's a toss-up between lemon and cherry as to which I like better.
Now- let's discuss Richie's Gourmet Italian Ices…
Richie's is a walk-up/drive-thru stand…it's been around for something like 20 years…all of its ices are homemade…it has 13 "standard" flavors every day and 3 "rotating" flavors every day…it also sells coffee–from what I understand, Richie's does a big takeout coffee business, but Jeff Eats didn't try a cup–because all coffee tastes the same to these tastebuds… You can check www.richiesgourmetitalianices.com for flavors/photos/other information.
Now you gotta trust me here…
I know my Italian Ices. I've been eating the "stuff" for over 60 years. I've eaten it all over and have dripped it on my shirt more times than I care to remember. To this very day, lemon and cherry are still my favorites, but over the years I've tried-sampled every conceivable flavor and combination. AND let me tell you, Richie's lemon and cherry are right up there with best of breed. Not to sound sacreligious or nothing, but Richie's tangerine and vanilla chip ain't no slouches either.
Like I said before, if you like Italian ices you are going to love Richie's Gourmet Italian Ices. Just so you know, Richie's ices don't go for 5 cents a scoop, but you knew that already.
Richie's is open Monday-Friday 7am-10pm and Saturday-Sunday 11am-10pm.