Frozen Delight (Boynton Beach)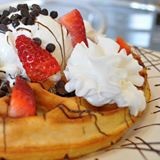 ***** Frozen Delight, 8784 Boynton Beach Boulevard, Boynton Beach, Florida 33472 (561) 200-0315.
You know and I know that ice cream stores, yogurt stores, gelato stores, juice/smoothie stores are a dime a dozen down here in sunny South Florida. In my travels, I have found that "these" stores have now become like lawyers and doctors…that being, they specialize in one area or another. For example, a store may have 67 different types of yogurt but not one scoop of ice cream…or a store may sell 359 different types of smoothies but have no yogurt
Anyway…today I found -Frozen Delight–an all in one, ice cream/yogurt/gelato/smoothie joint. Absolutely perfect for the couple or family that likes different "things." Sounds simple, but trust me, I've been to many "shoppes" where Jeff Eats left happy while Mrs. Jeff Eats left pissed off beyond belief…and vice versa. There have been times when we have left a joint…where even the United Nations couldn't have solved the dispute…Just thinking, the UN may-be the wrong "example" as its resolving-history isn't all that good…But, I think you guys appreciate what I'm trying to say here.
Frozen Delight- has the "full boat" of yogurts, fat free yogurts and low calorie yogurts…plus all the toppings that your little heart could want. In addition, its got a ton of ice cream flavors, in-store made gelatos, fresh juices, smoothies and waffles. Mrs. Jeff Eats especially enjoyed the joint's 8 calories per ounce chocolate and pistachio yogurt…Jeff Eats on the other hand, absolutely loved the chocolate chip ice cream and mocha gelato "calories unknown"-cone that -frozen delight's fixed up for me.
You folks now know about a really good "multi-faceted" yogurt-ice cream-gelato joint.
One final thought…
In previous "stories" I've mentioned how employees can often make or break a business…
To-Frozen Delight's owner:
Your employee Paula was FABULOUS-TERRIFIC-OUTSTANDING…this young lady, seeing that we had Jiggy the "dog" outside with us, "un-asked" presented Mrs. Jeff Eats with a dish of cold of water as she was ordering.. During the "selection period" she explained flavors and offered all kinds of free samples. She has a great smile and winning personality and really does your business justice. AND no, she isn't related to either Mrs. Jeff Eats or Jeff Eats or any friends of ours.
Frozen Delight-is open Sunday 1pm-10pm, Monday 1:30pm-9:30pm, Tuesday-Thursday noon-10pm and Friday-Saturday noon-midnight.