Vinny's Cafe (Boca Raton)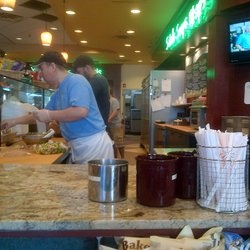 ***** Vinny's Cafe, 3013 Yamato Road, Boca Raton, Florida 33434, (561) 988-9883.
First, I must say that Vinny's Cafe in Boca Raton has one of the easiest telephone numbers to remember…988-9883.
Second, I am a long-time friend of the original owner–Vinny…based on the fact that a number of years ago he sold the "breakfast-lunch" joint to a guy that I don't know, I feel that I can "issue" an honest review for Vinny's even though on average I "see" Vinny (that's the original one!) at least 5 times a month for breakfast. Trust me, it sounds more complicated than it really is.
Real easy concept at Vinny's Cafe…order at/pickup at the counter. Menu is real simple…handful of breakfast sandwiches/wraps/omelettes, lunch wraps/sandwiches/paninis/salads. You can check menu/prices at www.vinnysalldaycafe.com.
Over the past year or so, Jeff Eats has probably been "in" Vinny's something like 5 times…Mrs. Jeff Eats, Daughter Jeff Eats and Son Jeff Eats during the same time period– each-probably average double Jeff Eats' number (for those not too hot in math, that's 10 times each!).
Now, I maybe going out on a limb here, but I'm gonna rate Vinny's Cafe as one of the best "fast food" salad/wrap/panini/sandwich joints in South Florida. Now, for sure—lettuce, cucumbers and bean sprouts aren't exactly Jeff Eats' "go-to"-foods, but I will tell you that Vinny's chicken breast panini, turkey club, tuna salad wrap and chicken salad wrap are absolutely delicious. The beautiful thing about this real casual place is- that there are enough items on its menu to please a guy like Jeff Eats who's looking for a BLT and Mrs. Jeff Eats and her kids who want to eat "healthy."
Vinny's Cafe is a great "concept." It has loads of items to choose from and also- has a "make your own" salad/wrap deal going. Trust me, the list of "mix and match" stuff is huge! For the record, when my buddy Vinny (way back when) was telling me about the restaurant he was building, I thought he was nuts with the type of "food" he was looking to sell. Believe you me, I totally miscalculated how gigantic the salad/wrap marketplace really was.
Vinny's Cafe is open Monday-Friday 8am-5pm, Saturday 9am-4pm, Sunday 11am-3pm…
Vinny was right on the "demand"–the joint is always jammed.
Just goes to show you, that despite what you guys may think, Jeff Eats doesn't know everything.