***** Mr. Nice Guy *****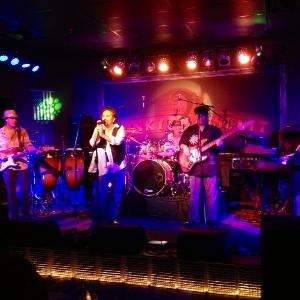 ***** Mr. Nice Guy *****
Recently saw "Mr. Nice Guy" an absolutely dynamite classic rock band (1960s-1970s-1980s) at the Seminole Hard Rock in Hollywood.
Speaking of dynamite, comedian- Jimmy J.J. Walker of tv's 1970's "Good Time" fame, just released a dynamite "tell-all" book, "DY-NO-MITE, GOOD TIMES, BAD TIMES, OUR TIMES"—that I highly recommend that tv afficianados catch. But I digress…
Trust me on this, Mr. Nice Guy "plays" some of the best Beatles, Santana, Eagles, Joe Cocker, Zeppelin and Stones covers that you will hear.
Mr. Nice Guy often reffered to as "MNG" is a local South Florida sextet having formed in 2002. If the group's recent Hard Rock appearance is any indication-it has an enormous fan base.
At this stage of the story you can check audio/video/info/schedule at www.mngband.com.
The really beautiful thing about Mr. Nice Guy…in addition to a steady twice a month gig at the Hard Rock, you can catch the group at various South Florida clubs, restaurants, casinos…usually "sans" a cover charge.
If you enjoy this type of music, do yourself a favor and catch Mr. Nice Guy in action.