Nicola's Donuts (Tampa)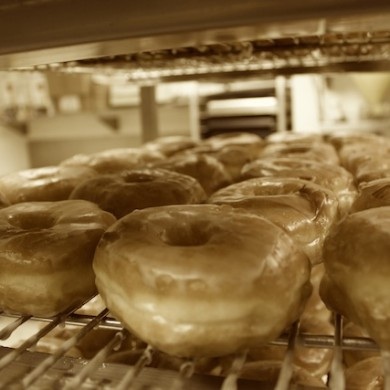 ***** Nicola's Donuts, 14390 North Dale Mabry Highway, Tampa, Florida 33618, (813) 374-2396—-902 West Busch Boulevard, Tampa, Florida 33612, (813) 932-1303.
I don't know about you guys, but one of my favorite "meals" is a couple of donuts and a cup of hot coffee…to be perfectly honest, I really don't know too much about coffee–I still remember cups going for a nickel and can't wrap my arms around the $3-4-5 a cup that joints like Starbuck's now fetch. On the other hand, donuts–I know. Just so we are straight, I've never really met a donut I didn't like–but, I can definitely "differentiate" a top notch donut from a standard run of the mill donut.
A few weeks back, I was "up" in Tampa and stopped in at Nicola's Donuts…
Nicola's has been around since 1982 and has two locations…the joint makes donuts, cupcakes, muffins, turnovers. You can check menu/prices/photos/hours at www.nicolasdonuts.com.
Let me make this story short and sweet (pun intended)…Nicola's makes some of the most delicious donuts that Jeff Eats has ever eaten. Not to bore you with every detail– I did a "takeout" dozen…glazed, apple fritter, plain cake, french creuller, cinnamon twist, chocolate sprinles—each and every donut was delicious.
You folks now know about a terrific donut joint in Tampa.