Doc's Diner (Key Largo)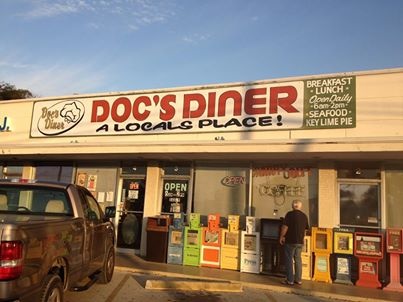 ***** Doc's Diner, 99696 Overseas Highway, Key Largo, Florida 33037, (305) 451-2895.
Next time you are "down" in Key Largo…give "mom & pop" diner-Doc's Diner a shot.
First things first, yes–the name "got" me in the door…and yes, before I even walked in the door, I knew in my mind's eye as to exactly what the joint and its menu would look like. AND. my money says you to would "know"…but if I'm wrong-check www.docsdinerkeylargo.com for menu/prices/pictures. Counter/booth "formica" seating. Open 7 days a week 6am-2pm. Loads of breakfast stuff, sandwiches, burgers, salads, daily meat/chicken seafood specials, desserts.
Second things second, did breakfast at Doc's Diner…real simple…scrambled eggs with bacon/home fries, pancakes, french toast, coffee. Exactly what I expected, good solid food, super pleasant waitress, about 7 bucks a head (with tip)–For sure, your neighborhood "Doc's" got a different name–maybe it's Joe's, Tom Sawyer's, Peter Pan, Johnny's…but give or take—they are all the same, that-go-to local breakfast/lunch joint where you really enjoy eating "dolled up" in your tee shirt/shorts/flip flops ensemble.
All I know, is that–Madison Avenue has got it all wrong…America runs on the "DOC'S" of this world-not Dunkin' Donuts.