Good Times Sub Shop (Palmetto Bay)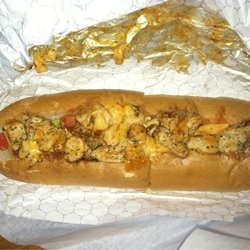 ***** Good Times Sub Shop, 17225 South Dixie Highway, Palmetto Bay, Florida 33157, (305) 964-7418.
Anyone here remember the 1970's tv blockbuster show- Good Times? Recently caught Jimmy J.J. Walker at a comedy club…and the man is still very funny.
Anyway…the other day I tried Good Times Sub Shop…a "sub" shop (what else?) in Palmetto Bay. Now nothing for nothing, you guys know-that down here in South Florida, sub-shops are literally a dime a dozen…you also know, that most of them are pretty-good and get the job done…for example, even a gigantic operation like Publix turns out decent enough stuff. Now, every so often Jeff Eats comes across a sub joint that goes-shall we say–the extra mile…just check, I got some names for you in the Subs/Salads category. Getting back to Good Times, I'm gonna put this joint in the "extra mile" category. First, the two young guys who own this joint, couldn't be more pleasant or nicer. Second, the 3 subs (delicious hard crust bread) that I tried- churrasco, bbq chicken and tuna were right up there with the best of breed. Third, rare for a sub joint, Good Times has wings—and the grilled honey mustard ones I had were delicious. I'm gonna leave you guys to let me know if the cold meat/cheese subs are any good–but I will tell you, the Italian Special that I saw a guy eating there looked awfully good to me.
You can check Good Times Sub Shop's menu/prices at www.goodtimessubshop.com.
Good Times Sub Shop is open Monday-Friday 11am-7pm, Saturday 11am-4:30pm, closed on Sunday.