***** BOCA BURGER BATTLE, A GRILLING AFFAIR! *****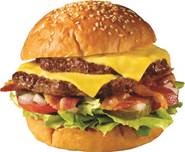 ***** BOCA BURGER BATTLE, A GRILLING AFFAIR *****
Got a real good one for you guys…"BOCA BURGER BATTLE, A GRILLING AFFAIR!" -Saturday, July 14th-7PM-10PM at Sanborn Square Park, Boca Raton.
From what I'm hearing, this "thing" is gonna be something else!
All kinds of food, beer, booze, burger contest, celebrity judges, bands, live entertainment, retail shopping bazaar…
Pre-sale tickets $50, at the door $75. The price of admission includes all food and beverage tastings.
The 2012 "Burger Contestants'" preliminary list includes- in no particular order…Super Dave's Diner (Boca Raton), Biergarten (Boca Raton), Gimme A Burger (Deerfield Beach), Big Joe's Burger & Wings (Boca Raton), Red's Backwoods BBQ (Boca Raton), Boardwalk Fresh Burgers & Fries (Boca Raton), Brickyard Micro Brewery (Boca Raton), Saquella Caffe (Boca Raton), The English Tap & Beer Garden (Boca Raton), Dubliner Irish Pub (Boca Raton).
For whatever it's worth, amazingly- Jeff Eats has "writeups" on all of the current contestants–except The English Tap & Beer Garden.
If this sounds like something you'd enjoy, check www.bocaburgerbattle.com for information/tickets.
I'll keep you guys updated as new contestants and details are announced.
****June 23, 2012 UPDATE
By the way, since Jeff Eats' "initial" writeup, Morton's, Brewzzi's, Smashburger and Rebel (same guys that own Charm City), Wave 2700 have been added to the contestants' list.