Border Grill (Orlando)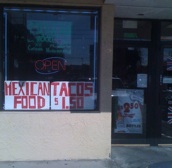 ***** Border Grill, 5695 Vineland Road, Orlando, Florida 32819, (407) 352-0101.
Look! I'm no "Mexican" food expert…as a matter of fact, Mexican food really isn't on my "must eat" list. That said, every so often, when I'm with a group of people—I eat this stuff because I'm a nice guy. With that in mind, let me tell you about a recent outing to Border Grill a "hole in the wall–mom & pop" Mexican joint in Orlando…By the way, I'm not sure why Mexican food isn't a "favorite"…may have some psychological thing to do with that "D" I got in Spanish- senior year at Erasmus Hall High School. Back then this subject was so "touch & go" that if Mr. Gold the "other" Spanish teacher (and all around good guy) hadn't graded my Regent's test–I'd probably still be in high school tryig to pass the freaking subject. Anyway…
Border Grill has loads of tacos, burritos, enchilladas, tortillas, fajitas, quesadillas–so, if Mexican food is your game, the joint definitely got you covered.
Let me make this story real short and simple…Border Grill makes some of the best Mexican stuff that I have ever eaten.
My recent outing had me "trying" chicken fajitas, shredded beef/soft flour tortilla, marinated pulled pork taco, steak burrito…
Like I said a few seconds ago, some of the best Mexican food that I've ever eaten.
In closing let me go out on a limb here, Border Grill is what Jeff Eats is all about…that being finding the "best" joints to eat in. This is a real hole in the wall…limited seating…piss poor signage…cheap prices—the kinda "place" that most people of sound mind would never ever think of walking into. To be honest with you, "locals" told me and my friends about it…that's how we "came to" it. TV-critics like Guy Fieri of "Diners, Drive-ins & Dives" and Adam Richman of "Man v. Food" search the country for joints like Border Grill…well, you are now one step ahead of them…
Border Grill is open Monday-Wednesday 11am-midnight, Thursday-Saturday 11am-3am, closed on Sunday.