***** AMERICAN ENGLISH *****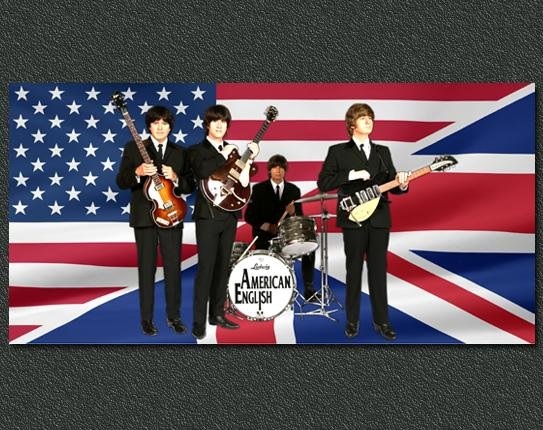 ***** AMERICAN ENGLISH *****
Got something that you Beatles' fans might like…American English.
I know and anyone over the age of 3 knows, that Beatles' tribute bands are literally a dime a dozen. I'll bet you a buck— that the most basic Google search turns up something like 10 million Beatles' tribute bands here and abroad. For what it's worth, some of the bands are terrific, others are very good-good-fair and some stink. Trust me on this, I've seen loads of Beatles' bands and most fall into the "fair" category. To put it another way, if The Beatles actually sounded like most of the tribute artists out there–Decca Records which rejected the group in 1962, wouldn't to this very day-be the laughing stock of the music industry. Decca's passing on the group ranks right up there with Coca Cola's mind boggling decision to change its world famous Coke formula.
The point of the above discussion…back on March 1, 2012 at Palm Beach State College's Duncan Theatre in Lake Worth—I caught American English an absolutely amazing Beatles' Tribute act. Like I said before, I've seen tons of Beatle bands– and American English "most" of the time had the audience convinced that John, Paul, George and Ringo were actually in the house. Now, we all know that The Beatles are The Beatles—but these guys are as authentic as is humanly possible. By the way a few months ago, I caught Rain–The Beatles' tribute band that played Broadway and was featured on PBS– and nothing for nothing, its bass player is a righty and Paul is a lefty, so what's that all about?
Anyway…American English is based out of Chicago and plays all over the United States.
You can check the group out at www.americanenglishbeatles.com.
If American English gets "down" to South Florida again, check these guys out–they really are that good.
One final item, Palm Beach State College's Duncan Theatre has a terrific "yearly" series of shows…the theatre seats about 300 (every seat is good) and tickets go for something like 20 bucks. You can check its upcoming schedule at www.theatermania.com.