Jersey Johnny's Pizzeria (Boynton Beach)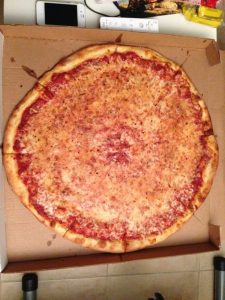 ***** Jersey Johnny's Pizzeria, 1313 Boynton Beach Boulevard, Boynton Beach, Florida 33426, (561) 364-3464.
I don't know about you guys, but there is no way that Jeff Eats could-not try a pizza joint named Jersey Johnny's Pizzera… betcha a dime, that I'll soon be hearing from Mike's Bayridge Pizzeria, Flatbush Boys Burgers, Joey Chan's Staten Island PizzerIa, Leon's Atlantic City Subs, Tony's Bronx Deli—so be it!
Anyway…last week Mrs. Jeff Eats had some folks over to the house and did a "takeout" from Jersey Johnny's Pizzeria… antipasto salad, Caesar salad, 16″ round pizza, 16″ sicilian pizza, meatballs marinara, penne ala vodka, fettuccini alfredo, veal parmigiana, sausage & peppers. At this stage of the discussion you can check www.jerseyjohnnyspizza.com for menu/prices.
Let me make this one real simple, Jersey Johnny's Pizzeria gives you a ton of food for cheap money…Now you and I both know, that cheap doesn't necessarily mean good…
I'm glad to report- that every "dish" that we had was A-OK. For sure, some were better than others, but not one disappointed. I will tell you, that the pizzas were really good and the meatballs marinara were dynamite.
Like I mentioned 33 seconds ago, we did takeout…Just so you know, the joint has plenty of tables, so you can eat there.
One final thought, some of you guys maybe wondering how Mrs. Jeff Eats "selected" Jersey Johnny's in the first place? Just so you know, one of her closest girlfriends-Judy recommended the joint so that's how that tune really got played.
Jersey Johnny's is open Monday-Thursday 11am-11pm, Friday-Saturday 11am-midnight, Sunday 11am-9pm.