Sharpie's Hoagies (Sunrise)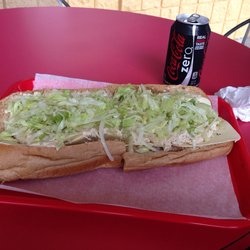 ***** Sharpie's Hoagies, 13101 West Sunrise Boulevard, Sunrise, Florida 33323, (954) 845-0999.
Sharpie's calls them hoagies…
Depending on where you are "from"—feel free to apply your own terminolygy:
subs
heroes
grinders
blimpies
poor boys
po' boys
rockets
spuckies
torpedoes
tunnels
wedges
zeppelins
In any event, Sharpie's Hoagies located in Sunrise "makes"- 8″ & 12″ ———(fill in the blanks), kaiser roll sandwiches and salads.
Gave this joint a shot the other day "trying"… chicken salad, tuna salad, crab meat, ham/genoa salami/cappacola/provolone cheese subs—and I gotta tell you, the subs were absolutely dynamite. Sharpie's uses a nice crusty bread and really loads its sandwiches up. The 4 sampled-subs were right up there with the best that I've had down here in South Florida. If I had to single out one for special mention—the chicken salad was my favorite.
In closing, you may call Sharpie's "submarine sandwich" what you'd like…just don't call it Ray or Ray-J.
Sharpie's Hoagies is open Monday-Saturday 11am-7pm, closed on Sunday.