Bonefish Mac's Sports Grille (Wellington, Lighthouse Point, Port Saint Lucie)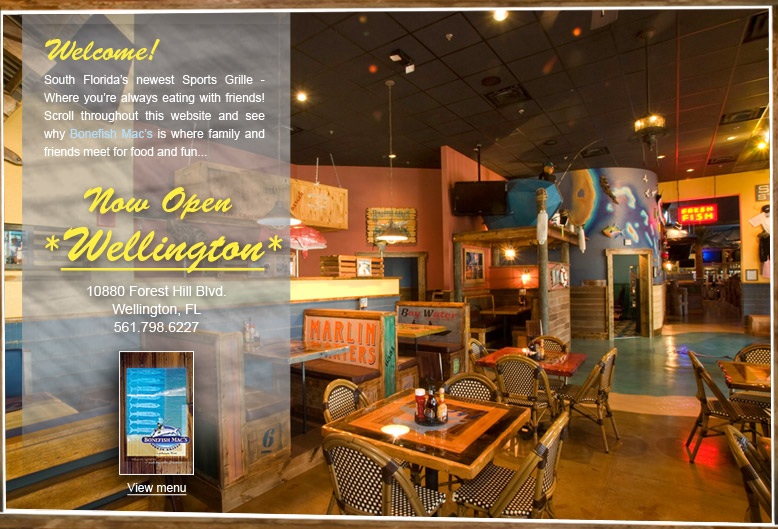 ***** Bonefish Mac's Sports Grille, 10880 Forest Hills Boulevard, Wellington, Florida 33414, (561) 798-6227.
For our purposes a "small" sports-bar chain…there are currently 3-South Florida locations, Wellington, Lighthouse Point, Port Saint Lucie.
If you are over the age of 2, you know the drill…tons of tvs, Florida Keys' decor, indoor and outdoor patio seating, full bar, menu jammed with reasonably priced half-way decent appetizers- burgers- salads-sandwiches-wraps- meat/chickseafood entrees, pleasant young servers. You can check www.bonefishmacs.com. for menu/prices/locations.
For the purposes of this discussion, I "tried" the Wellington joint…Gotta be frank here, the cheeseburger-french fries-chopped house salad-Greek shrimp salad were ok, but absolutely, positively nothing to write home about. The best way to describe the food, think TGIF or Applebees and you've got the picture. Would I eat there again? Sure, but based on the outing, I won't be racing back.
Now for the "mystery" here…as I mentioned a few seconds ago, there are 3 locations…Wellington, Lighthouse Point and Port Saint Lucie. Anyway, friends of mine who live in Port Saint Lucie rave about that location's food. Believe it or not, I also have friends who have eaten at the Lighthouse Point outpost and they found the food to be very good sports bar food. So which is it–Wellington is the odd man out, the Port Saint Lucie friends don't know squat, the friends who ate at the Lighthouse Point store don't know squat, or Jeff Eats doesn't know squat?
If you have eaten at any of the Bonefish Mac's joint, write to me and help solve the "mystery."
Bonefish Mac's Sports Grille is open 7 days a week for lunch and dinner.