Pincho Factory (Miami)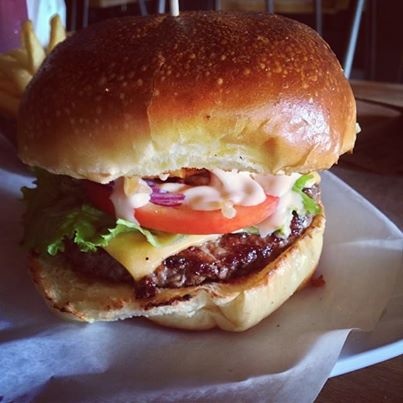 ***** Pincho Factory, 9860 Southwest 40th Street, Miami, Florida 33165, (305) 631-2038.
First, let's give credit to our pals at Burger Beast (www.burgerbeast.com) for turning us onto- Pincho Factory a Latin inspired "fast food" burger/hot dog/pincho joint…before we get going here-the best way to describe a "pincho"-food on a skewer. You can check www.pinchofactory.com for menu/prices…to get a real good "feel" as to what's going on at Pincho, check the "YELP" site—the last time I looked-Pincho had something like 140 reviews and 109 photos.
Now, I know that what's "cool" is a very subjective thing…what you may consider cool, I may consider un-cool. Rather than getting into a whole "cool" discussion with you guys, let's just say that the Pincho Factory was one cool-fast food joint. If you're really interested in following-up on this column, I seriously urge you to check those YELP photos. Not sure who took them, but they got decor shots and tons of food shots–guranteed after you see the photos, assuming burgers, hot dogs, meat/chicken/seafood grilled skewers, pita bread, fries are your game–you will definitely want to try Pincho Factory. This is a very unique fast food joint…it's not the standard formica formula.
Let's talk food…the basic cheeseburger- dynamite, shrimp/chicken/steak skewers-off the chart, basic french fries-on the money, chocolate covered french fries- a homerun, basic hot dog-a knockout, fried cheescake-incredible. Now that I've exhausted my Guy Fieri superlatives–let's just say that Pincho's food is outstanding and its "toppings" (this is where the Latin influence-kicks in) are literally limitless
I kinda think that you regular readers know that Jeff Eats is a "simple" eater…I like my pizza straight up sans toppings (ok-maybe a drop of sausage or pepperoni here and there), I like my french fries with ketchup, I like my hot dog with mustard & sauerkraut, I like my burger with American cheese-raw onions-ketchup, I like my bagel with plain old cream cheese or butter, I like my Thomas' English muffin toasted with butter and strawberry jam. The point to be made, believe it or not, I'm really not into food "experimentation." For you sticklers out there, I know that chocolate french fries and fried cheesecake aren't "standards" but the Burger Beast himself told me that I had to try them…so I did. Anyway…if you want to put a "different" spin to your favorites, Pincho's got you covered.
If you want to eat delicious burgers/hot dogs/fries/meat-chicken-seafood fast food, then you gotta try the Pincho Factory.
Pincho Factory is open Monday-Thursday noon-midnight, Friday & Saturday 11am-2am, Sunday 11am-10pm.