Johnny's Soda Fountain & Luncheonette (Miami Springs)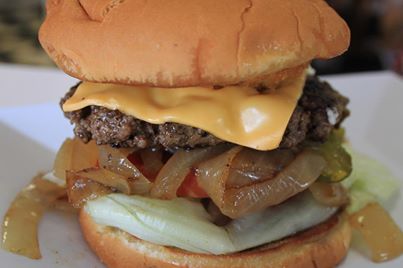 ***** Johnny's Soda Fountain & Luncheonette, 45 Curtiss Parkway, Miami Springs, Florida 33166, (786) 953-5553.
If a 1950's "looking" diner located in a Miami Springs pharmacy is your game…get ready to play.
Last week I had lunch at Johnny's Soda Fountain & Luncheonette which is located in the Miami Springs Pharmacy. You can do the Googling here, but back in 1946 a guy named John Stadnik opened a drug store in Miami Springs…and like many of its brethern of the time, it had both a pharmacy and luncheonette in it. To make a long story short, the pharmacy "survived" but the luncheonette closed in 1965. Fast forward to 2010- the Miami Springs Pharmacy is still owned by the Stadnik Family– and Carol, John Stadnik's daughter decides to "re-open" the luncheonette naming it Johnny's Soda Fountain & Luncheonette.
So- you know what this joint is all about, the PHARMACY still has the original 1946-look…while-Johnny's is 1950's faux-stuff ala Johnny Rockets. For our purposes, this is a mom & pop diner—with an interesting "story" in a really cool location.
Johnny's menu isn't huge, but I'm sure you'll find something to eat…handful of breakfast items–same for salads/sandwiches/burgers/hot dogs/entrees/daily specials/sundaes & shakes. Like I said a few seconds ago, I did lunch…cheeseburger, grilled chicken breast sandwich, french fries, vanilla ice cream/heath bar shake.
Now for the results…I loved the look of the whole joint. The pharmacy and luncheonette are separated by a half-wall divider. Now I know and you know (because I told you)–that the diner decor is a faux-deal, but it's still cool and real mom & popish…if Johnny Rockets' decor is a Bentley, Johnny's is a really used Honda. As for the food, imagine if you made the stuff at home. I appreciate that we may get some-waaaay different results here, but I do make a real good cheeseburger and Mrs. Jeff Eats can muster up a decent enough grilled chicken breast…as for the fries, Johnny's were ok– like mine- they came out of a frozen package. The shake wasn't exactly in the league of a Dairy Queen's Blizzard, but I definitely could handle 2-3 of Johnny's a week. For the record, over the years Jeff Eats has tried to "duplicate" blizzards at home and has failed miserably.
Johnny's Soda Fountain & Luncheonette is my kinda of a joint…I'm a sucker for black & white tiled floors, yellow counter stools and red & white checked tablecloths.
Johnny's is open Monday-Saturday 8am-8pm, Sunday 9am-3pm.