Sweets From Heaven & Fuzziwig's Candy Factory (Boca Raton, Fort Myers, Orlando)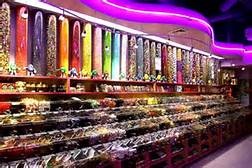 ***** Sweets From Heaven & Fuzziwig's Candy Factory *****
Got something here that I can't exactly wrap my arms around…Sweets From Heaven & Fuzziwig's Candy Factory.
To make a long story-short…
Yesterday, I killed some time in Boca Town Center–while Mrs. Jeff Eats roamed the mall looking for God knows what…For one solid hour I entertained myself- checking out people (most had no packages) and "thinking" about stuff like-how poorly the mall's new food court "mix" and lay-out was–and what a goldmine the Apple Store was.
Anyway…right near the food court is an "upscale" candy store named Sweets From Heaven. I'm gonna assume that all of you guys have been to big regional malls and have seen and been in "some version" of an upscale candy store. For the record, Sweets From Heaven is a small national chain with a number of franchised locations in the United States. Not sure why, but in some malls the "store-concept" is called Sweets From Heaven and in others it's called Fuzziwig's Candy Factory. You can check the chain's website www.sweetsfromheaven.com for locations/details. For our purposes, there is 1-Sweets From Heaven in Boca Raton, 1-Fuzziwig's in Fort Myers, 1-Fuzziwig's in Orlando.
Now, I may be giving you guys too much credit here, but I don't think so… but, when you saw these "candy stores" which look like amusement parks/candy factories– loaded with bulk candy and kids' novelty items- didn't you say to yourselves, "Boy! I wish I was a kid, but man, this stuff costs a fortune." Well, if you didn't…I did—and as I walked around the store I couldn't believe the prices that this joint was getting for the most basic of candies.
Now, if I recall my basic PS 179 math, there are 16 ounces to a pound. To be perfectly honest with you. I don't recall the exact "brands" or exact " $-amounts" but Sweets From Heaven was hitting up customers for something like $7.95–$14.95 lb. Like I said a few seconds ago, the brands may not be exactly the same, but I kinda think that I know what, M & M–Twizzler Licorice–Good & Plenty candies look like. Now, nothing for nothing, but on many standard candies- guys like Walmart, Target, Costco are fetching something like 23-30 cents per oz. I'm gonna let you guys do the math. By the way, this morning before writing this piece I checked my cupboard and visited a Walmart and Costco to make sure I wasn't talking out of my hat.
Now, I know that businesses like Sweets From Heaven rely on "impulse buying." It just seems to me, that there is impulse buying and then there is IMPULSE BUYING.
Like I said at the top of this discussion, Got something here that I can't exactly wrap my arms around.