Johnny's Diner (Winter Park)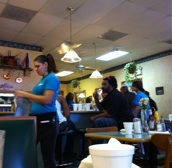 ***** Johnny's Diner, 104 South Semoran Boulevard, Winter Park, Florida 32792, (407) 677-6776.
Johnny's Diner…inline-strip center "mom & pop" diner—plenty of formica going on here–cash only! The joint is open Monday-Saturday 6am-3pm, Sunday 7am-3pm. Full boat of breakfast stuff, burgers, sandwihes, salads, meat/chicken/seafood dishes.
A bit too early this morning–to get into a full blown discussion as to how the Johnny's Diners of this world are the "fabric" of American society—how there are literally thousands of them all over the United States—how every town has its own "version" etc.
Johnny's Diner is my kinda of place. Absolutely nothing fancy going on here. Good solid food at a reasonable price.
Recently did a Johnny's Diner lunch—chicken salad on rye toast, meatloaf on a toasted bun, grilled cheese & bacon pita, french fries, Coke. Chicken salad ok-but not going to be running from Boca on a regular basis for it. French fries, same deal. The meatloaf which was recommended by a guy sitting next to me and Mrs. Jeff Eats at the counter—now, we're talking-something really delicious–same for the pita. If gas wasn't hovering around 4 bucks a gallon, I'd might be tempted to make Johnny's a monthly episode. For those of you who aren't shall we say "regular" readers…just kidding on that monthly episode thing.
Let me close by saying, America has "tons" and I do mean "tons" of Johnny's Diners. Your favorite joint maybe called Joe's or A-1 or Kitty's–what they all have in common…mom & pop owners, hardworking waiters/waitresses, decent enough food and local customers like you and me who appreciate a "place" where we can go to- talk and enjoy our friends-family seated at a formica table or counter.