Danny's All American Diner & Dairy Bar (Tampa)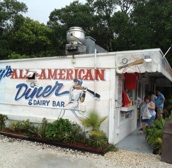 ***** Danny's All American Diner & Dairy Bar, 4406 North Falkenburg Road, Tampa, Florida 33610, (813) 740-0606.
There is an old saying…"One picture is worth a thousand words."—With that in mind, I need you guys to go to www.dannysallamericandiner.com—when you get there- in addition to menu/prices, you will find photos/videos which will "explain" this joint in detail. Basically, you order from a small building's window and pickup your own food—you eat outside on picnic tables. Just so you know, Danny's was featured on tv's 'Diners, Drive-ins & Dives'–that "segment" is on Danny's site…for good or bad, thanks to Guy Fieri, Danny's customer base is now just not limited to townies.
For you purists out there, Danny's really isn't a diner—actually, it's a hole in the wall-fast food joint that does breakfast stuff, burgers, franks, sandwiches, salads, fries, ice cream, shakes.
Before we go any further, I absolutely loved Danny's. No lying, if Danny's was by-my house, I'd eat there at least once a week.
The other day I did lunch at Danny's…"tried"-bacon cheeseburger, french fries, onion rings, chocolate shake. For what's it worth, I would match Danny's "flat-top" grilled burger/fries/onion rings/shake against the best that I've had down here in South Florida. There really isn't too much more that I can say about this joint other than–its food is tremendous, its dumpy roadside building has a great retro-vibe (watch the video), its prices are reasonable and Danny- a former marine (who cooks everything) captures the essence of what American roadside food is suppose to be-and not what the McDonald's of the world have pushed on us.
I highly recommend Danny's All American Diner & Dairy Bar.
Danny's is open Monday-Friday 8am-6pm, Saturday 10:30am-3pm, closed on Sunday.