Boca Raton Resort & Club—The Mar-a-Lago Club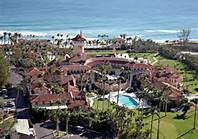 The Mar-a-Lago Club
Boca Raton Hotel & Resort, 501 East Camino Road, Boca Raton, Florida 33432, (888) 543-1277.
The Mar-a-Lago Club, 1100 South Ocean Boulevard, Palm Beach, Florida 33480, (561) 832-2600.
Got something a little different for you guys…
Over the past 6 months, I and Mrs. Jeff Eats have attended several "major" catered functions at both the Boca Raton Resort & Club and The Mar-a-Lago Club. To "protect" the innocent, I'm not going to go into what type of events they were, but these were big "blow-out" affairs with heavy duty decorations, orchestras, djs, suits/ties, gowns, tuxedos.
If this isn't your bag, no problem—I'll catch you tomorrow.
To make this as short as possible…many South Floridians consider the Boca Raton Resort & Club and The Mar-a-Lago to be two of the "best" catering facilites in the State, not to mention the country. For the record, The Mar-a-Lago Club is owned by Donald Trump. Boca Raton Resort & Club is owned by Boca Resorts Inc. who acquired it from Wayne Huizenga in 2004.
Ever go to a wedding, bar/bat mitzvah, or other fancy party where the food and service stunk?
Now for sure…a good orchestra, a good dj, good decor, a good crowd–can make a party loads of fun. That said, every affair that I've attended at the Boca Raton Resort & Club and The Mar-a-Lago Club "featured" lousy food and piss poor service. Just so we are straight, I'm talking LOUSY and PISS POOR– now, I'm ball-parking here, but I'll bet you that in my 62 years I've attended over 250 "big" events and Mrs. Jeff Eats and I have personally made 5- down here in South Florida alone. I think it's fair to say, that the food/service at the Boca and Mar parties were right up there with the worst of the worst.
Anyway…you now know about 2 joints not to have a big party at.
By the way, is Trump still running for President?
Remember HYPE doesn't necessarily make something good.