Hurricane Cafe (Juno Beach)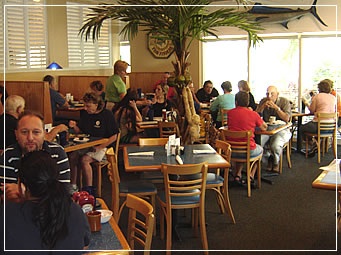 ***** Hurricane Cafe, 14050 US Highway 1, Juno Beach, Florida 33408, (877) 775-2559.
For our purposes we're gonna call Hurricane Cafe in Juno Beach a "neighborhood" diner. The joint's got indoor table/booth/counter seating–it also has an outdoor patio with a handful of tables. Your shorts/tee shirt/flip flops' ensemble will work well there. Before you head over to Hurricane's website www.hurricanecafejuno.com for menu/prices– you should know, that unlike many of its South Florida bretheren, Hurricane doesn't close at 3pm–in fact it's open 7 days a week from 7am-9pm doing breakfast/lunch/dinner. By the way, the website has a photo of the joint–like they say one photo is worth a thousand words-so you'll know exactly what's what.
A few days ago I "did" Hurricane for a breakfast…western omelette, banana praline french toast—both were delicious.
Hurricane Cafe is my kinda of a joint…nothing fancy going on here–just solid food. For those of you who need to know right this minute, Hurricane's menu is loaded with all kinds of breakfast stuff, salads, sandwiches, wraps, individual pizzas, meat/chicken/seafood entrees.
As I just mentioned a few seconds ago, my outing was basically a two dish breakfast. Sorry, I can't give you the skinny on lunch and dinner offerings–what I can tell you, is that several "local" diners told me that the joint's salads and wraps were terrific–and singled out the yankee pot roast for special mention. Now, I know–that asking total strangers for opinions about the food-is sort of like asking total strangers leaving a movie what they thought of the picture–suffice it to say, the strangers I asked "looked" like they knew what good food was all about.
We are going to leave this one with this…
Based on the fact that I've eaten in tons of "mom & pop" diners, my recent breakfast and the opinions of total strangers who "looked" like they knew what good food was all about—the bet here, is that you'll enjoy Hurricane Cafe's food whether it be breakfast, lunch or dinner.
If you eat at Hurricane Cafe, please write me and let me know if that yankee pot roast call was right. By the way, one of the strangers "polled"- picked 'Godfather' and 'Godfather II' as her favorite pictures, one said that 'Herbie The Love Bug' and 'A Nightmare On Elm Street' were his favorites and one picked 'Gone With The Wind' and 'Snakes On A Plane' as her best films —so there!