The Filling Station (Miami)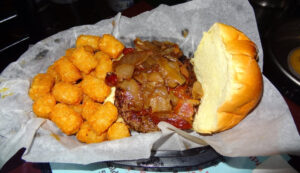 ***** The Filling Station, 95 Southeast 2nd Street, Miami, Florida 33131, (786) 425-1990.
Let's call The Filling Station located in Miami- an "American Style" kinda sports bar…think decor-wise—-TGIF Friday's with "old gas" station stuff on the walls and you got the picture.
Right up front, I really enjoyed The Filling Station…loads of appetizers, burgers, sandwiches, salads, wings, pulled pork stuff. Real easy going joint, reasonable prices, sports-bar pleasant enough service. You can check menu/prices at www.thefillingstationmiami.com.
Look! I'm gonna guess that there must be something like 2 billion sports bars-alone in South Florida. Throw in the chain guys of the world like TGIFs, Ruby Tuesday's, Applebees, Hurricane Wings and Buffalo Wild Wings and maybe we are talking 7 billion South Florida joints where you can enjoy decent enough food, be surrounded by flat screen tvs and choose from something like 25,000 different beers. The point I'm struggling to make here, is that there are tons of joints where you can get good food and drink your liver away-all while watching tv. The only call you gotta make is where you spend that dime. Not sure who said it, "Different strokes for different folks."
To be perfectly straight with you guys, my game is FOOD…I know a bunch of you folks are really into "this beer or that beer"–but when it comes to joints like The Filling Station–delicious burgers- fries -wings- pulled pork and philly steak subs are my end game.
The other night, I, Mrs. Jeff Eats and another happily married couple stopped by The Filling Station…I gotta tell you that the flame grilled burger with genoa salami/provolone cheese/pesto mayo was absolutely delicious…same for the pulled pork and philly steak subs. The seasoned tater tots' sides were off the chart…and
The most beautiful part of the evening was that Mrs. Jeff Eats and her girlfriend didn't bitch too much because the menu had enough salads to hold the fort.The spinach salad with grilled chicken and house salad with blackened mahi mahi kept the peace. For the unmarried men reading– but not exactly following the above rant…when you tie the knot, this will all make sense to you…and that's a money back guarantee from Jeff Eats.
If you live or work in The Filling Station's neighborhood…give it a shot.
The joint is open Monday-Thursday 11:30am-9pm and Friday-Saturday 11:30am-10pm, closed on Sunday.