Prime Cigar & Wine Bar (Boca Raton)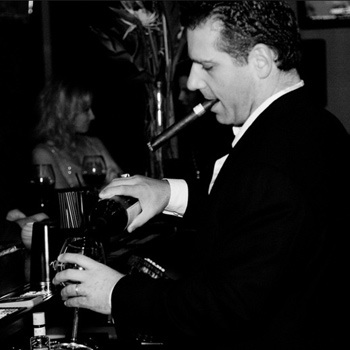 ***** Prime Cigar & Wine Bar, 2240 Northwest 19th Street, Boca Raton, Florida 33431, (561) 613-6130.
About a month or so ago I was eating dinner outside at Tucci's Fire N Coal Pizza in Boca Raton —two guys, I'm guessing in their mid 30's came over to my table and one asked me "Do you know where we can find a good cigar bar?" Now, I coulda pulled a Lou Costello on them and said–No, but if you hum a few bars-I'll try and play it…but I didn't. Surprisingly- Jeff Eats who supposedly knows it all—didn't have a joint to recomend.
That conversation got me thinking…
I am happy to report to you and "if" those two guys are reading—that I found a terrific upscale cigar/wine bar, Prime Cigar & Wine Bar in Boca Raton. So there is absolutely no misunderstanding, I don't smoke cigars and don't know sqwat about them. My recommendation is based on the "trusted" opinions of four friends who love to smoke cigars, know wines and are fans of the cigar/wine bar concept. These guys swear by Prime Cigar & Wine—I will tell you, that I personally-physically checked the joint out a couple of nights ago and it's absolutely gorgeous with an upscale full bar and lounge area. When I was there, it had a load of guys puffing/drinking away and everybody seemed to be having a good time talking and watching a handful of flat screen tvs. Now I'm no expert here, but the joint seems to be extremely well equipped in that it has a 300 sq foot humidor loaded with cigars–so you can have your own or buy from the house…and "members" get their own temperature controlled cigar storage lockers.
Totally off subject, but "lockers" reminded me of a guy I've known since we were kids at Ditmas Junior High School in Brooklyn…back then, this kid for love or money couldn't figure out how to open the combination lock on his gym locker…and the craziest thing, some 50 odd years later, the same guy despite the fact that he is a prominent attorney and multi-millionaire still can't open a combination lock. Anyway…
Now- something I'm a bit more familar with- FOOD…
Prime Cigar & Wine Bar doesn't have a kitchen and doesn't prepare/sell food. However, it has a complimentary service with its staff "picking up" food for Prime's "smokers"- from shopping center stablemates…Five Guys, Nick's Pizzeria, Hooters, Gyroville, CR Chicks, Laspada Subs, Shane's Rib Shack, Moe's Southwest Grill. During my visit, I noticed pizzas, burgers, subs "at" the bar and in the lounge.
If you are into this cigar thing…check www.bocasmokes.com.
Prime Cigar & Wine Bar is open Sunday-Thursday 11am-midnight and Friday-Saturday 11am-2am.