Chocolates by Mr. Roberts (Boca Raton)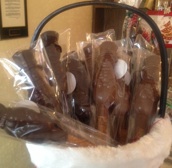 ***** Chocolates by Mr. Roberts, 505 Northeast 20th Street, Boca Raton, Florida 33431, (561) 392-3007.
I don't know about you, but I try my best to eat-healthy (wink-wink!)…so- when I recently came across a handful of newspaper/magazine articles which described the benefits of eating dark chocolate—I was a thrilled camper.
So- for all of you health nuts out there, I got an absolutely amazing joint for you to try…Chocolates by Mr. Roberts in Boca Raton… a "hole in the wall" shop that makes some of the most delicious chocolates that I have ever eaten.
A recent outing had me "doing" pieces of English Toffee Dark, Dark Pecan Bark, Dark Nut Crunch…
Now, based on my research, dark chocolate is supposedly the "healthy" chocolate, so I guess the Milk Nut Crunch and English Toffee Milk that I also tried "didn't" do me any good…oh well!
Anyway…If you want to chow down on fabulous and I do mean fabulous- home-made chocolates, get yourself over to Chocolates by Mr.Roberts.
You can check products/prices at www.chocolatesbymrroberts.com.
By the way, the joint has been around for something like 30 years.
Chocolates by Mr. Roberts is open Monday-Friday 9:30am-5:30pm, Saturday 9:30am-5pm, closed on Sunday.