Between The Bun (Boynton Beach)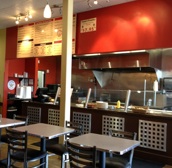 ***** Between The Bun, 1035 Gateway Boulevard, Boynton Beach, Florida 33426, (561) 735-8820.
Back on August 24, 2011- I did a "review" on Between The Bun…a fast food burger joint in Boynton Beach.
This past Sunday, I and Mrs. Jeff Eats had lunch at Between The Bun…I'm really not into the repeating game–however, I gotta tell you that the cheeseburger–steak sandwich–french fries that we had were as good as "anything" out there in South Florida.
The burger and steak were made on a gas grill–which gives the food a delicious "backyard" bbq taste…the fries were hand cut…they look and taste exaclty like the Nathan's fries- that I grew-up on in- as a kid in Brooklyn in the 1950s.
For the record, I really don't see how people "call" McDonald's fries or for that matter any other fast food joint's fries, the best going—because, as far as I'm concerned- Nathan's fries were and still are the king of the hill. Look, I know some of you guys out there ain't Nooo Yorkers— you gotta trust me on this one… the original Nathan's in Coney Island made/still makes crinkle cut french fries which are absolutely amazing…after you've eaten these fries, everything else is second-rate. Just so you know, in the various South Florida Nathan's outlets, the fries, like the their Brooklyn parent's stuff are delicious—but, for some reason-maybe it's the ocean air/grease/Brooklyn air–the Nathan's Coney Island location's fries seem to taste better to me. Anyway…
Between The Bun is a one-off. It's owned by a guy named Dave. From what I can tell, he is there morning-noon-night and literally lives and breathes Between The Bun. The guy use to own a deli in New York City and moved down here to be near his elderly parents who reside in Boynton Beach. I am telling you, this guy Dave knows how to make food. The burger is delicious. He also makes a garlic steak sandwich with grilled onions that is dynamite. On the fries, I really don't know what Nathan's secret is, but Dave makes fries that in a blind taste test, I'd bet that Nathan's CEO couldn't tell the difference. I know I couldn't.
Just a couple of thoughts…How come Nathan's which has burgers, fries, hot dogs–and was around long before McDonald's, BK and Wendy's came on the scene-didn't grow into a huge national fast food chain? Also, how come there are no national hot dog chains?
If you want to eat dynamite burgers, fries and bbq steak sandwiches…give Between The Bun a shot.
Between The Bun is open 11am-9pm 7 days a week.