The Over Easy Cafe (Oakland Park)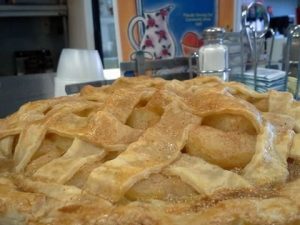 ***** The Over Easy Cafe, 341 East Oakland Park Boulevard, Oakland Park, Florida 33334, (954) 561-1177.
The Over Easy Cafe–"mom & pop" diner located in Oakland Park.
Let me start by saying, that everyone has an Over Easy Cafe…
It maybe called- George's in Brooklyn, Tom Sawyer's in Boca, Good Egg in Tucson, or Cozy Corner in Chicago—that small, neighborhood, formica table/booth joint (the grill is right behind the counter seating) that you go to—for breakfast/lunch. Absolutely impossible to get a count, but I'll betcha that there are literally thousands of these mom & pop owned/operated restaurants in America.
You know the drill…menus- loaded with breakfast stuff, sandwiches, salads, burgers, dinner specials, desserts. Nothing gourmet (whatever gourmet means) seemingly happens at the -Over Easy Cafes of the world—Just decent food, pleasant waitresses, loads of coffee, endless conversation.
Like most of you, I absolutely love these kind of joints.
For the record, I have eaten 3 breakfasts and 1 lunch at the Over Easy Cafe. Can't recall ever having had- a bad western, pancake, cheeseburger, chicken salad on toasted rye. You can check menu/prices at www.theovereasy.com.
The Over Easy Cafe is open Monday-Friday 6am-3pm, Saturday 6am-1pm, Sunday 7am-1pm.
One final item for you…The Over Easy Cafe makes some of the best home-made pies that this Brooklyn boy has ever tasted. Try the dutch-apple and I'll betcha a buck, that the next time you're in Costco- you'll think twice about bringing home that 20 pounder (well it feels like it's 20 lbs) that they have in the baked goods area.