Philly Pretzel Heaven (Davie)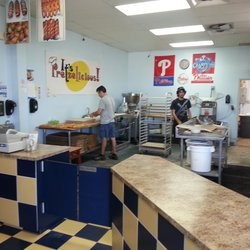 ***** Philly Pretzel Heaven, 5021 South State Road 7, Davie, Florida 33314, (954) 584-5168.
Real simple—"hole in the wall" fast food joint that makes amazing Philadelphia style- soft pretzels.
You guys do know, don't you?–that Philadelphia, among-other things is famous for its cheesesteaks and pretzels. Well! You don't have to drive (give or take) 1,000 miles to find out what the pretzel part of the equation is all about.
Just for the record, I love mine with mustard.
You can check www.phillypretzelheaven.com for menu/prices.
The joint is open Monday-Friday 8am-5:30pm, Saturday 8am-4pm, Sunday 9-2pm.